SL backpacks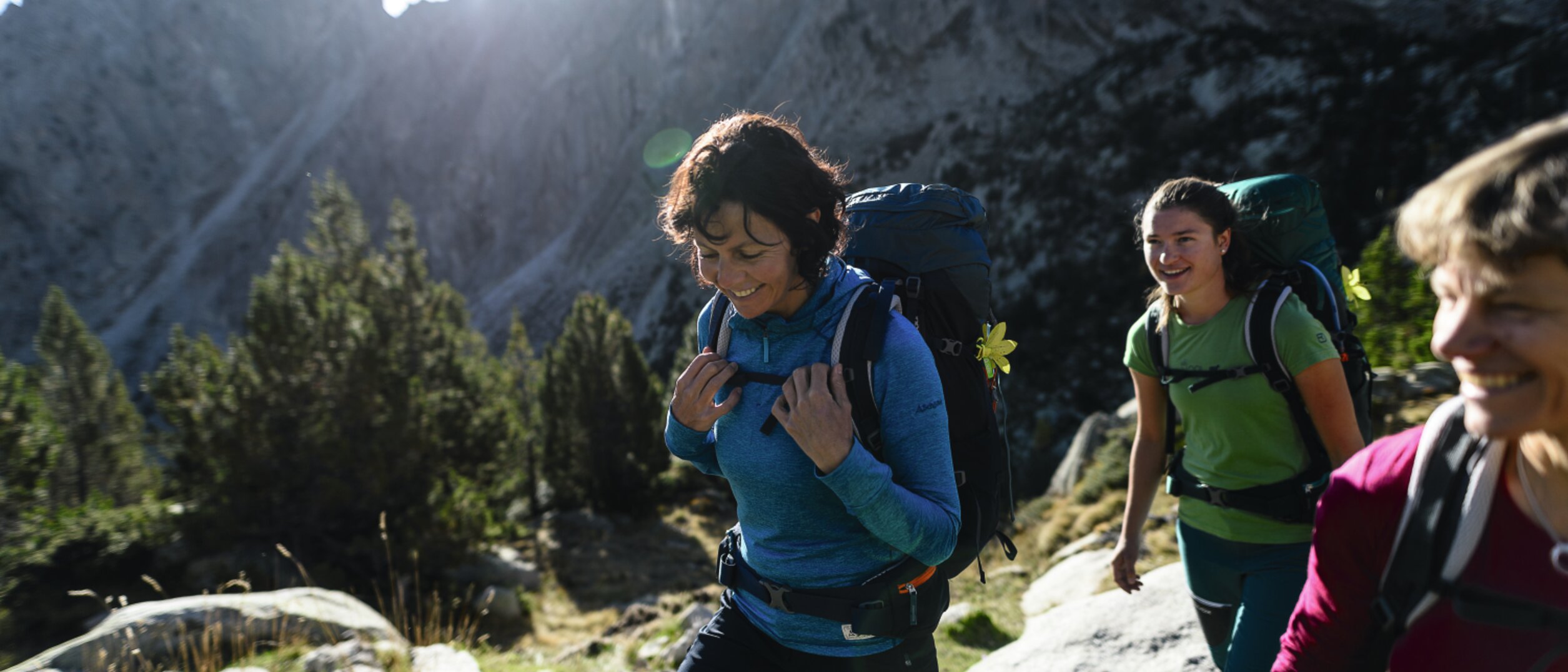 In 2006, a specialized team of women - designers and athletes - originally developed SL backpacks, recognisable by the name "SL" (Slim Line). Instead of just changing the colors of an existing pack, we adapt our designs to better fit anatomically. The carry system is perfectly suited for women and individuals with a narrower build because they have:
a somewhat shorter back length
more conical hip belts
narrower distance between shoulder straps
soft edges to prevent chafing.
Keep reading at the bottom of this page to learn more about SL packs for every activity!
Deuter SL Packs: for every activity
Loading
Sorry, an error appears to have occurred
SL packs for everyday life
Do you ride your bike to school or take the train to work every day? Whether on the way to the office, to school or on an excursion around town - a Deuter SL daypack for fits comfortably. You can choose a pack to suit your needs.
Environmentally conscious commuters often use the rucksacks from the Vista and UP series, which are produced sustainably and environmentally friendly and thus save CO2. The fabrics of the UP series consist of 100% recycled PET bottles. Between 35 and 40 PET bottles are used for production. In the UP you can safely transport your laptop thanks to the reinforced outer walls and still have it ready to hand. When you ride your bike to work, you can safely stow everything in the Giga SL or Gigant SL.
Whether hiking in the Alps, the Rockies, or on Kilimanjaro - your backpack must be tailored to your needs. Our SL hiking backpacks combine individual requirements with maximum ventilation and maximum comfort. Thanks to the high level of comfort and optimal load distribution, you can enjoy every hike. Popular backpacks for hiking include the lightweight Futura SL or Trail SL, which are available in different sizes.
Trekking packs for every adventurer
---
Backpackers love it: the sound of your own steps in your ears, only the destination in your eyes. Always going forward - often for days. Therefore, your pack has to support you and distribute the load well across your back. The trekking backpacks for narrow builds from Deuter do exactly that. With a sleeping bag, clothing, food and a tent, with the right SL backpack you can master every challenge thanks to its high level of comfort for short and long trekking tours.
---
Conquering the rock face while climbing - there are climbing backpacks for every type of climber and climbing. The Gravity series offers maximum lightness and functionality at the same time. A secure fit and freedom of movement ensure that climbers have the best possible advantage while scaling vertical rock.
Freeriders need a backpack on a tour that offers space for the essentials and is functional at the same time. A clear division of compartments, a simple design and safe equipment features such as an extra safety compartment for a shovel and probe are just a few of the highlights of the SL freeride backpacks. A modular fixing system attaches snowboards, snowshoes or skis to the backpack. In addition, the SL backpacks are perfectly adapted to cold winter conditions. At Deuter you will find freeride backpacks or ski touring backpacks, suitable for your excursion on and off the slopes.
Bikepacking, mountain biking or simply a ride around town - the ambitious cyclist does not only need food and drinks on a tour. They also needs tools, a change of clothes and an air pump. Here you can find out how to properly prepare for a bike tour. With a Deuter SL backpack, you always get the right companion for every bike tour. The bicycle backpacks for smaller body types are light, precisely fitting, offer storage space, comfort and a practical compartmentalization.
For mountaineering in winter, for high-altitude mountaineering, or ice climbing, Deuter has developed very light and puristic backpacks for slim bodies. They are perfectly adapted to the needs of smaller mountaineers. When you choose the right SL alpine backpack, a secure hold and weather resistance play an important role. Weight and comfort, as well as durable materials are also important. With the slim pack sack of the alpine backpacks, the load is always kept close to the body's center of gravity and thus guarantees full control - even in demanding passages.
Travel in comfort with Deuter SL packs
---
Would you like to start a trip around the world? Do you travel a lot for business? At Deuter you will find the right
travel backpack for your body type
. You can carry the AViANT Carry On SL and AViANT Access SL series as a backpack, or by the grab handle like a suitcase. Organization allows you to find everything important quickly. You can also bring the smallest models of these SL backpacks as carry-on luggage and do not have to check any extra luggage for your flight. Your luggage is safely secured by fixed points for locks and inner compartments for valuables.