REPAIR SERVICE
WITH NEEDLE AND THREAD FOR THE ENVIRONMENT - THE DEUTER REPAIR SERVICE
Who doesn't know them, the classics among the signs of wear? A provisionally attached paper clip as a zipper replacement, a "lovingly patched" tear in the pack, which eats itself despite armor tape constantly or the small hole in the outer material of your sleeping bag, which competes with Mrs. Holle in terms of "amount of snow". These and other damages do not make your product worthless, because they can be repaired.
So if your deuter product should ever get into trouble and urgently need a repair that you can not do yourself, then we are very happy to help you. After all, our concern is to make the product life cycle as long as possible and thus reduce the ecological footprint of our products. That's why we put a lot of emphasis on timeless design, sustainable materials and seamless high quality along our manufacturing process. And we repair. This reflects our responsibility towards our environment and our customers.
BETTER TO REPAIR THAN THROW AWAY
---
Long-term durability is extremely important for our products, because we want you to enjoy your favourite pieces for as long as possible. By extending the life cycle of your Deuter product, we also contribute to conserving resources. Because repairing is better than throwing away. This has been a tradition at Deuter: our qualified specialists have been carrying out repairs on-site at Deuter for 120 years.
YOU AND YOUR "DEUTER" - YOU HAVE A COMMON STORY.
---
That's why we try to repair your favorite piece!
Your backpack, which has been a faithful companion for years and has experienced many adventures, is not easy to replace? Your sleeping bag has warmed you up for many nights and should continue to protect you from the cold? And you still want to rely on your accessories, even after many years together? So: Just send us your favorite piece and we will repair it as fast as we can!
AT DEUTER, QUALITY AND SUSTAINABILITY ARE OUR TOP PRIORITIES.
---
For us, responsibility goes beyond the sale of our products, because we want to be a lifelong companion for people. That is why we make a promise for our products: We offer a life-long repair service for our products - your favorite pieces. With this we also protect the environment, because repairing is better than throwing away!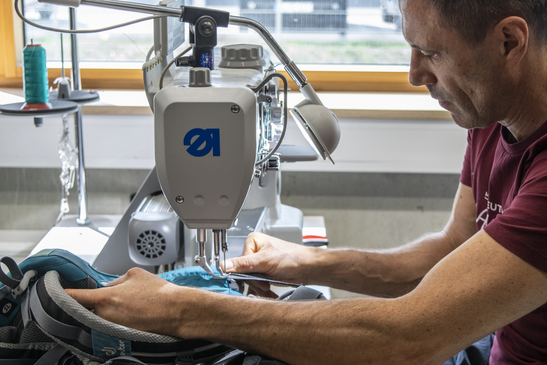 WARRANTY AND GUARANTEE, THAT'S WHAT IT'S ALL ABOUT
---
As the manufacturer, we provide a two-year warranty from the date of purchase for every Deuter product, in addition to the statutory warranty claims to the specialist dealer. The warranty can be claimed in all countries in which a Deuter product has been sold by us as authorized dealer. Within this two-year warranty period, we will eliminate all defects caused by material or manufacturing faults by repairing or replacing the product free of charge. Excluded from the warranty are damages due to improper use, personal fault, normal wear and tear as well as defects that only insignificantly affect the value or the usability of the product. The warranty is void in the event of interventions by service providers not authorized by us and the use of third-party spare parts (not original Deuter).