REPAIR SERVICE
What is the procedure for sending my deuter product for repairs?
Clean your deuter product: All deuter products must be cleaned before being given to the retailer, for hygiene reasons and in consideration of our employees. Otherwise we will not be able to repair it, or guarantee quick turnaround times. Please refer to our cleaning guidelines.
Include the receipt if you still have it: Using your proof of purchase from an authorized deuter retailer lets us check whether your product is covered by our free warranty (2 years from date of purchase).
Clearly indicate where the fault/damage is: The area with a fault or that's damaged must be clearly described in writing or marked on the product, as it's not always straightforward for us to make out. The retailer can help you with this.
Take your item to the retailer: Your specialist deuter retailer will then send your item to deuter. They will also be able to explain whether you will be liable for any of the costs. Unfortunately we cannot carry out full assessments from afar. Detailed information on costs and repair options will only be provided once we have received the item for inspection. We will always do our best to mend the item, regardless of how old it is.
Wait for a cost estimate: As soon as we receive your product, we'll inspect the damage/defect. We'll let the retailer know whether or not it can be fixed and what costs might be incurred. We will only begin the repair once you have agreed to these.
The repair is carried out: We will mend your deuter product. Within the two-year warranty period, any valid repairs or replacements are of course free of charge. In other cases, or where the warranty period has expired, repairs will be carried out for a small fee. Once we've received your item, we usually process repairs within ten working days.
Collect your item from the retailer: We will send your mended item back to the retailer. They will let you know when you can collect it from them.
Please contact the authorized online deuter retailer directly. In the same way as the shop retailer, the online retailer will then process the return to deuter.
Please get in touch with our customer service team using the "Repairs or complaints" contact form. Please remember to include your customer ID number or order number. To speed up communications, you can also provide us with your phone number. We'll do our best to process your request as soon as we can.
Zum Kontaktformular
The deuter repairs team will do their very best to mend your favorite piece of gear. If it's impossible to fix, there will of course be no charge to you. However, costs may be incurred by the retailer (processing fees and postage). We ask for your understanding. The retailer will however be able to help with assessing whether your item is repairable before sending it off.
No. There are no repair kits for backpacks. Because mending a backpack involves industrial sewing machines that can handle thick fabrics. And that's why it's hard to carry out repairs yourself. You either need to take it to a professional saddler or send it to deuter, as described above.
deuter's repair service – saving resources one stitch at a time
We've all been there. Temporary fixes like a paper clip as a zipper pull, duct tape you've lovingly used to patch up a rip on your pack, yet the rip is still getting bigger, or a tiny hole in the shell of your sleeping bag that seems to spew forth a never-ending stream of feathers. But these kinds of issues don't spell the end of the line for your gear. They can all be fixed – and more permanently too, by professionals.
So if your favorite deuter item ever needs an urgent fix – and one you can't deal with yourself – then we're happy to be at your service. By increasing the usable lifetime of products as much as possible, we can also decrease their ecological footprint. Which is why we work hard to ensure our designs are timeless, that we use materials that are sustainable and ensure the highest standards of quality are met throughout our entire manufacturing process. And it's why we carry out repairs. Because we view it as our responsibility towards our customers and towards the planet.
However well you look after a product, at some stage, it will start to show signs of wear and tear. For us, there is no doubt that mending gear is better than throwing it away. And that's not just because we have some real miracle workers in the deuter repairs department, who can stitch on patches, replace zippers and sew on straps, or even carry out very specific repairs that customers have requested. But because providing a lifetime repair service also increases the lifespan of a product, which in turn saves resources. It's a practice that goes back a long way at deuter. We've been carrying out specialist repairs for over 120 years. To give you an idea of what it means in practice: 2,185 items were repaired in 2020 in Germany alone, and worldwide, that figure rises to 3,307. We're really proud of that.
And with one of our original spare parts, like buckles or a waist belt, you can also extend the usable lifetime of your backpack beyond the warranty period.
OUR PROMISE TO YOU
YOU AND YOUR "DEUTER" - YOU HAVE A COMMON STORY.
Your backpack, which has been a faithful companion for years and has experienced many adventures, is not easy to replace? Your sleeping bag has warmed you up for many nights and should continue to protect you from the cold? And you still want to rely on your accessories, even after many years together?
So, send us your favorite pack or bag and we'll mend it as fast as we can!
AT DEUTER, QUALITY AND SUSTAINABILITY ARE OUR TOP PRIORITIES.
For us, responsibility goes beyond the sale of our products, because we want to be a lifelong companion for people. That is why we make a promise for our products: We offer a life-long repair service for our products - your favorite pieces. With this we also protect the environment, because repairing is better than throwing away!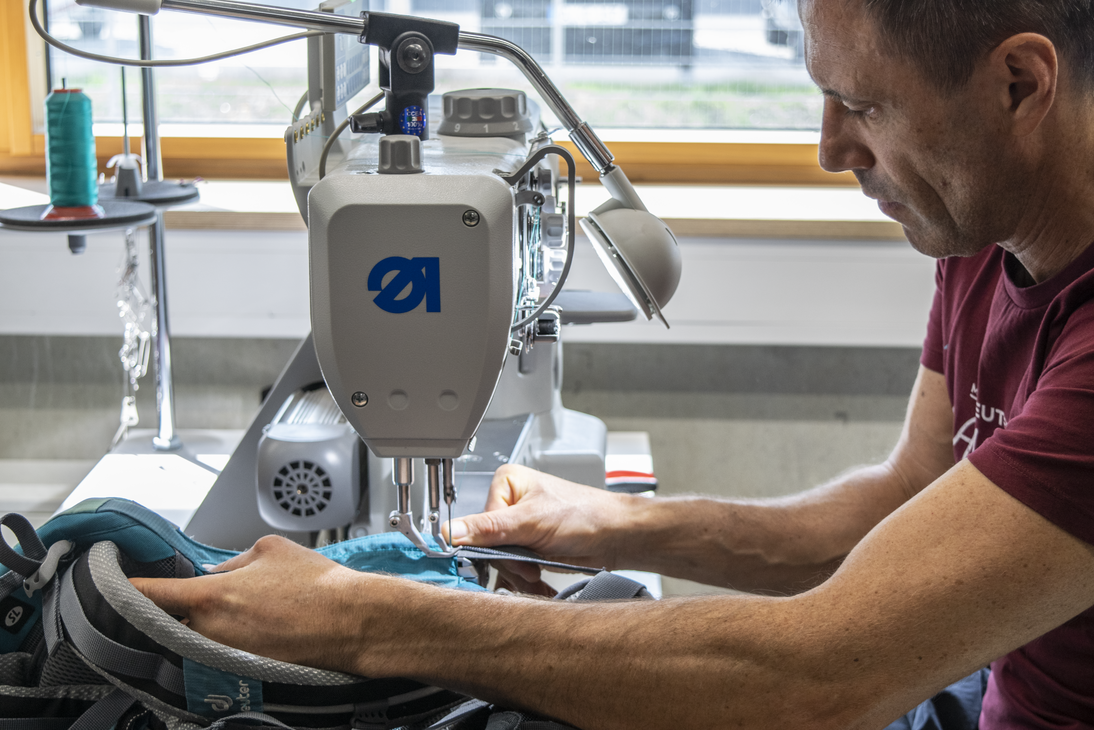 WARRANTY AND GUARANTEE, THAT'S WHAT IT'S ALL ABOUT
We want to act as a lifelong partner to our customers, and we hope you enjoy any deuter product that you buy for as long as possible. As the manufacturer, we are responsible for every product we make, which is why we provide a two-year warranty from the date of purchase for each of our products – over and above statutory warranty obligations from specialist retailers. The warranty can be claimed in any country in which you purchased a genuine deuter product. Within the two-year warranty period, we will repair or replace free of charge any product with defects caused by material or manufacturing flaws. Once the warranty period has passed, we will repair products for a reduced fee. The warranty does not cover damage caused by improper use, negligence, normal wear and tear, pets or defects that only have a minimal effect on the value or usability of the product. The warranty will be deemed invalid in the event of any modifications carried out by third parties not authorized by us, or with the use of spare parts that are not original deuter parts.