Cleaning your backpack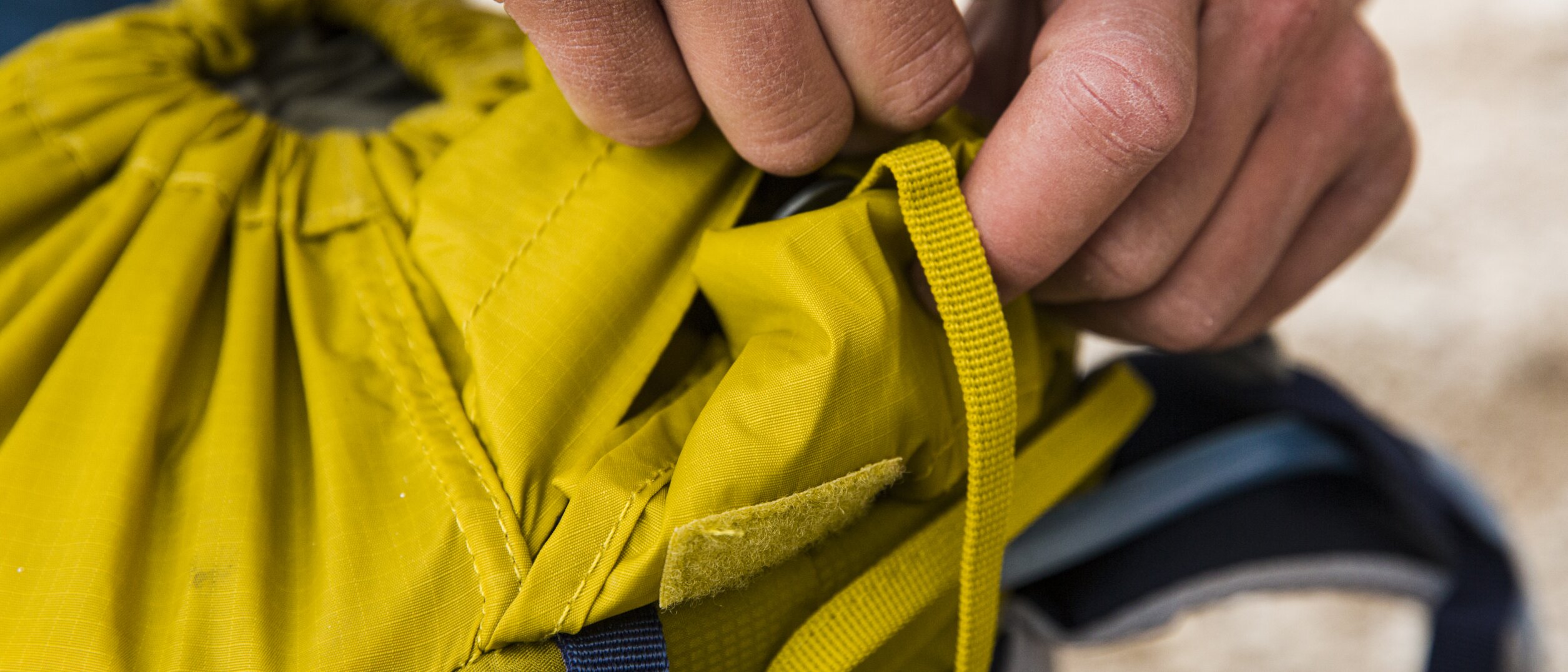 Extend the lifespan of your backpack with the right care
Your backpack is your trusty companion on so many adventures. But with regular care and cleaning you can make sure that it lasts for as long as possible. So here are some practical tips on washing, drying, waterproofing and storing your backpack.
When is it time to wash your backpack?
Although backpacks are not worn against the skin like our clothes, over time and on longer hikes they will get dirty. If your pack is very dirty or sweaty, then washing it is essential. But if it's only lightly soiled, or the dirt is superficial, like specks of mud or a dusting of pollen, then you can just spot clean it using a damp cloth. Note: It's easier to remove dirt when it's still fresh, straight after your hike.
Wash your backpack gently and remove any dirt
If you've been out hiking lots over the summer months, then it's normal for your backpack to be dirty and sweat stained. If you want to remove dirt from your deuter backpack, there are a few things you should bear in mind: You should never wash a backpack in a washing machine. That's because the abrasion places stress on the material (and PU coating) and can damage it in the long run. Also, there is often residue left behind from detergents, which can lead to skin irritation if you have sensitive skin. The chemical reaction that occurs between sweat, detergent residue and UV rays also speeds up the decomposition of materials.
HOW SHOULD I WASH MY BACKPACK PROPERLY?
This is how to clean your backpack as gently as possible: depending on its size, place it in a bowl or bathtub full of water and wash it with pH-neutral soap or shower gel. Dirt on the backpack can be easily removed with a brush. Rinse out salt stains on the carrying system by squeezing it several times by hand with soap and plenty of water. After that, your backpack must dry completely. Store it in a well-ventilated, dry place.
Our back systems are not designed to be mounted and removed, so we do not recommend that you remove the frame or linkage for cleaning. From experience, the removal and installation of the back system itself is not professionally possible. This could cause irreparable damage to your backpack/product.
In the washing machine? Tips on how to clean your backpack
Here's how to wash your pack gently: Depending on the size, submerge it in a bucket or bathtub of water and wash with pH-neutral soap or shower gel. Stubborn dirt can be removed with a brush. Salt deposits on the back system can be removed by squeezing soap and lots of water through the padding by hand, over and over. Then leave to dry in a well-ventilated, dry place.
Empty your backpack completely after each use. Get rid of any dirt with a brush and soapy water.
Never machine-wash your backpack or put it in the dryer, as this will damage the PU coating.
Backpack materials should not be ironed.
Always make sure any zippers are dirt free.
Dry your backpack thoroughly and store it correctly
Drying your backpack properly is not just important after you've washed it, but after a long day out too. Because it will have absorbed sweat and might have even been through rain showers. And so, it's important to air it properly.
Open all the zippers and place your pack in a dry place or hang it up, upside down.
Avoid placing it in direct sunlight or near a heat source, like an electric heater or open fire.
Store your backpack in a dry place like a cupboard — avoiding damp basements — and with all buckles and straps fastened.
Do I have to reproof my backpack after washing?
A backpack is easily affected by moisture. Follow our tips for waterproofing to make sure your belongings stay dry. Your backpack fabric should remain waterproof for the first few years. Sustained downpours will however result in some moisture seeping through the zippers and seams. On alpine tours, or when climbing or ski touring, it's best to pack the contents inside waterproof bags/dry bags inside the pack to prevent them from getting wet. The advantage of this, as opposed to a rain cover, is that all the straps remain accessible e.g. for attaching an ice axe, trekking poles or snowshoes. For hiking and trekking backpacks it's best to use a rain cover.
But sometimes, especially after a thorough wash, your backpack may need reproofing. It's easy to check if this is the case, by simply dropping a few water droplets onto the fabric of your backpack. If it doesn't bead up, and penetrates the fabric, then you should waterproof your backpack. For older models, applying waterproofing agents only helps over a shorter period of time. Beware that waterproofing agents (spray or wash-in) can penetrate into the shoulder strap fabric and cause skin irritation.
TIPS FOR WASHING YOUR BACKPACK
If your backpack has gotten a lot of sweat or dirt, for example after a long hike, washing is unavoidable. If you only notice light, superficial dirt such as small splashes of dirt or pollen, it is sufficient to clean the backpack directly after the tour. All you need is a damp cloth. If there is more dirt, you may have to wash the rucksack properly.
If you want to remove dirt from your backpack, please note the following: Backpacks should not be washed in the washing machine. This puts abrasive stress on the material and the PU coating and will cause damage in the long run. Also, detergent residues often remain. For sensitive skin types, this can lead to skin irritation on the shoulder straps, for example. A chemical reaction of sweat, detergent residues and UV radiation also promotes faster degradation of the materials.
Especially in the first few years, our high-quality backpack material and the DWR impregnation still keep it sufficiently waterproof. However, sometimes - especially after a thorough wash - a re-impregnation may be necessary. You can easily test this by dripping a small amount of water on the upper material of your backpack: if the water does not bead up but penetrates, you should impregnate the backpack. In heavy rain, we also recommend a rain cover to prevent water from penetrating through the zips and seams.