Care tips for your sleeping bag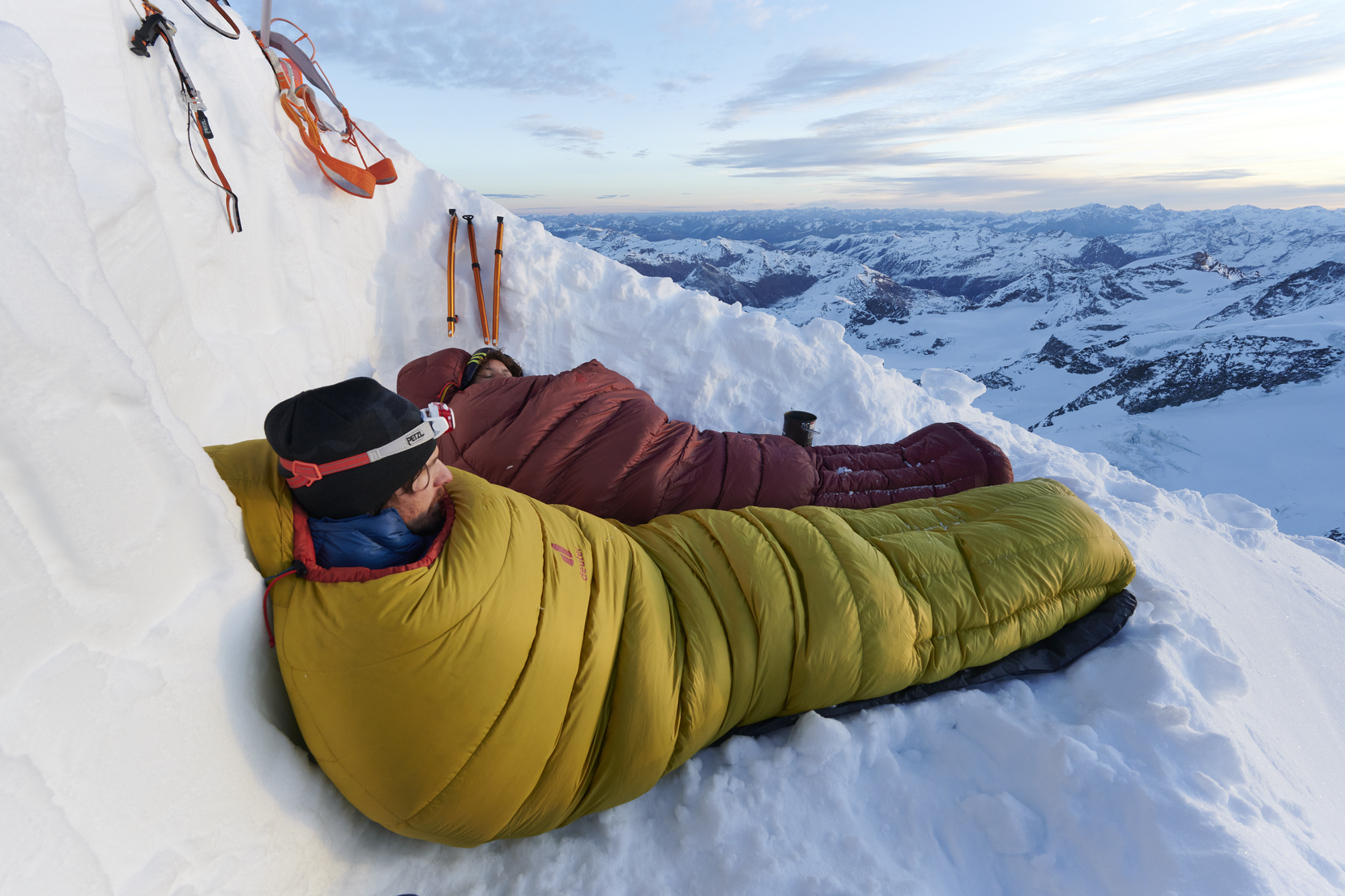 Care tips for your sleeping bag
HOW DO I ENSURE MY SLEEPING BAG LASTS FOR A LONG TIME?
If you have chosen a deuter sleeping bag, you will want to keep and use it for as long as possible. Proper care and storage are therefore crucial! Here we share some tips on how to store and care for your sleeping bag.
TIPS FOR WASHING A SLEEPING BAG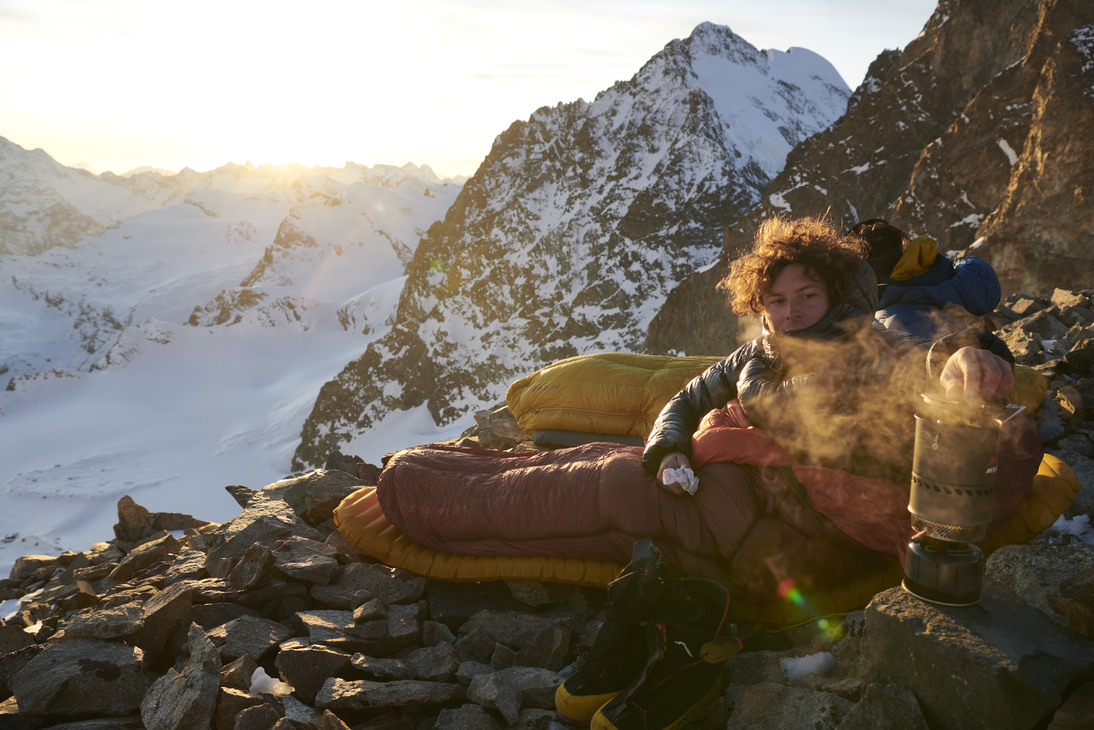 When caring for a sleeping bag, there are a few things to keep in mind to maximize its life. We have compiled some useful tips for washing your sleeping bag:
WASH YOUR SLEEPING BAG ONLY ONCE IN A WHILE WITH THE TICKING OR FUNCTIONAL UNDERWEAR FUNCTION
Stains, dirt and sweat cannot be avoided on and in a sleeping bag that is used regularly. However, there are ways you can protect your sleeping bag. In the best case, for example, you always snuggle in freshly showered. Since this is often not possible when camping, the use of a so-called inlet is recommended. The inner sleeping bag made of silk absorbs your sweat and can be washed easily. It also keeps you warm. Alternatively, functional underwear is also sufficient.
WASH SLEEPING BAG IN WASHING MACHINE ONLY IF NECESSARY
You should wash your sleeping bag as rarely as possible. In general, synthetic sleeping bags can be washed more often than down sleeping bags. If down is washed too often, it loses its fat layer and thus its insulating performance. However, washing your sleeping bag also has its advantages: With normal use, the sleeping bag automatically loses loft (bulking power). If the sleeping bag is washed properly, it can regain some of the bulk. We recommend that you look at the care label inside the sleeping bag before washing it. Usually it is enough to wash your sleeping bag every two to three years. Small stains and sweat residues can be removed by hand. All you need is a sponge, some washing-up liquid and lukewarm water.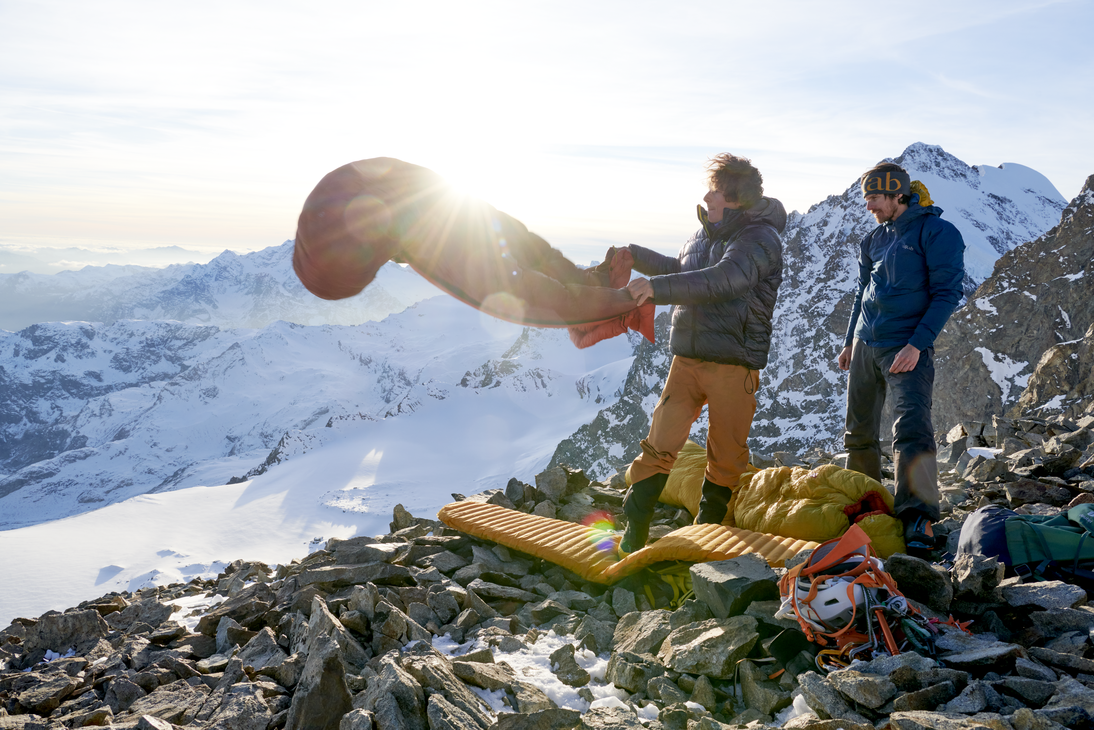 HOW TO PREPARE YOUR SLEEPING BAG FOR WASHING
Before your sleeping bag goes to the laundry, you should check it for holes, tears and other damage. You do not know how to patch your sleeping bag? Then contact our deuter repair service. We'll get your sleeping bag back in shape. After damage is repaired, there are three things to do before washing:
Close all Velcro, zippers and snaps.
Drawstrings, on the other hand, should be opened.
Turn your sleeping bag inside out for washing. This way, it will be clean despite an impregnated or waterproof outer shell.
HOW DO I WASH THE SLEEPING BAG CORRECTLY?
While we recommend hand washing for down sleeping bags, the synthetic fiber sleeping bags can be washed gently in the washing machine - with a capacity of at least 5 kg. But down sleeping bags can also be washed in the washing machine, if necessary. No matter what your sleeping bag is made of, always follow the instructions on the sewn-in care label, which can usually be found in a pocket or on the hem.
WASH DOWN SLEEPING BAGS CORRECTLY: WITH HAND WASH
Fill a bathtub with enough warm water (about 30 degrees).
Your sleeping bag is best washed with functional or mild detergent. Attention: Do not use fabric softener or bleach!
Immerse the sleeping bag under water.
Gently massage the detergent into the sleeping bag and let it soak in (up to one hour, depending on the degree of soiling).
Then rinse the sleeping bag thoroughly with cold water.
Gently squeeze the sleeping bag. Caution: Do not knead and wring out the sleeping bag, otherwise seams may tear!
WASH SYNTHETIC FIBER SLEEPING BAGS CORRECTLY: IN THE WASHING MACHINE
Fill only one sleeping bag in the washing drum.
Use only functional or mild detergent. Attention: Do not use fabric softener or bleach!
Set 30 degrees and the gentle wash cycle. Attention: Follow the instructions on the care label of the sleeping bag!
For synthetic fiber sleeping bags, put at least three tennis balls in the washing drum.
After washing, run several rinse cycles so that no detergent residue remains in the sleeping bag.
HOW DO I DRY THE SLEEPING BAG PROPERLY?
DRY DOWN SLEEPING BAG CORRECTLY: IN THE DRYER
For down sleeping bags we recommend drying in the dryer, so that the down is better distributed after washing.
For this, throw the down sleeping bag in the dryer only after it has air-dried for a few hours. Attention: Do not put a wet sleeping bag lump in the dryer, because this can damage the sleeping bag.
Put at least three tennis balls in the dryer with it, at a maximum of 30 degrees. This will give the sleeping bag its air back. Clumped down loosens in the dryer and becomes nice and fluffy again.
Attention: After washing, do not iron the sleeping bag, do not steam it, do not expose it to direct heat.
DRY SYNTHETIC FIBER SLEEPING BAG PROPERLY: IN THE AIR
It is best to lay the sleeping bag lengthwise/horizontally on a stable clothes horse. Important: Do not hang on one side, otherwise the filling in the sleeping bag will be distributed unevenly. Caution: Wet sleeping bags can be really heavy!
Store the sleeping bag in a sheltered place in the fresh air, out of direct sunlight.
Turn and shake out the sleeping bag every few hours until it is dry. It can take up to 3 days for the sleeping bag to dry.
PACK & STORE THE SLEEPING BAG PROPERLY AFTER WASHING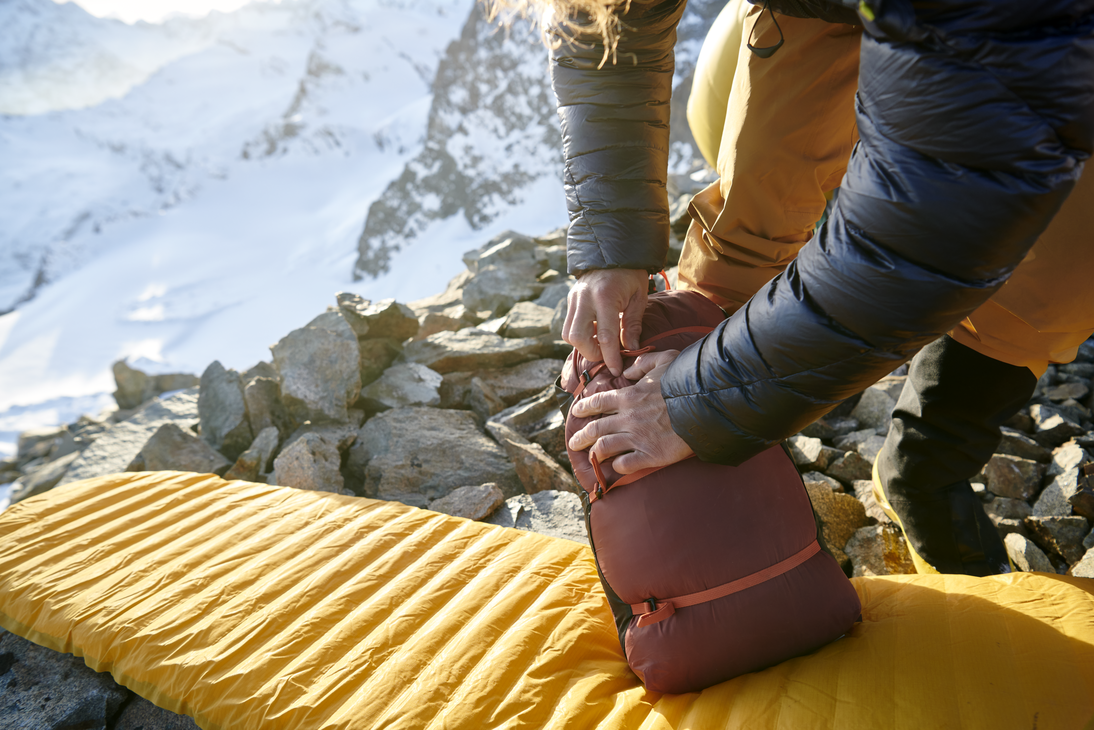 Stuff or roll? To make your sleeping bag as durable as possible, you should not only consider a few things when washing it, but also when packing and storing it. Before that, airing out is also the order of the day, so that no unpleasant odors develop. We have collected more tips on packing and storing a sleeping bag.
General: care instructions/washing instructions are on the care label inside the sleeping bag. Here are the care label of our sleeping bags in PDF format for download.