EVERYTHING ABOUT THE BLUESIGN® STANDARD
Sustainable textile production is everyone's business. You too. After all, you wear them yourself. Whether it's jeans for everyday wear, functional jackets or backpacks for hiking, biking or ski touring - their production is complex and can have a significant impact on people and nature. We want to reduce the impact. That's why we look for optimisation opportunities at all stages of the production chain - from the raw material to the finished product. This concerns the quantity, type and quality of the material as well as energy and water consumption, the handling of chemicals, noise emissions, resulting waste and occupational safety.
In our efforts for environmentally friendly manufacturing processes, we have been following the bluesign® standards since 2008. A coherent approach that fits ideally with deuter's 360° responsibility strategy.
Unlike many other eco-labels, the bluesign® system does not test the end product for harmful substances or residues of chemicals of concern. Rather, the entire manufacturing process of the components along the entire supply chain and materials of our backpacks and sleeping bags are subjected to an intensive compatibility check. The same applies to the impact on people and the environment caused by the necessary manufacturing steps.
Using the "bluesign® criteria", production processes and the composition of the components of an end product are tested and sustainably optimised. These are then "bluesign® Approved". In this way, a continuous chain of sustainable materials and work steps is created step by step, ultimately resulting in a "bluesign® product". Such a sustainable product consists of at least 90% "bluesign® approved" textiles and 30% "bluesign® approved" accessories. Our goal is to achieve 100% bluesign® certified components in order to provide the highest level of safety and maximum possible reduction of harmful substances.
Chemicals play a crucial role in the manufacture of textile products. They are used for dyeing or waterproofing, for example. According to bluesign®, more than 1000 different chemical substances are used in the production process. Of these, over 900 are of concern and must be managed accordingly. Questions regarding occupational health and safety but also disposal or handling of waste water are important aspects. Chemists and engineers from bluesign® have therefore compiled a "black limits" list. More than 800 substances are listed here, which can also be viewed publicly and are updated annually. They may not be used in production. With the help of the bluesign® standards, it is also possible to significantly reduce the use of resources in textile production. According to bluesign® statistics* (source: https://www.bluesign.com/de/business/unsere-geschichte ), water consumption is reduced by up to 50 %, energy consumption by up to 30 % and the use of chemicals by up to 15 %.
We are working on continuously increasing the share of bluesign® certified products. Currently (as of February 2021), 21 backpack and sleeping bag models in our collection have been awarded the bluesign® label: three Urban Daypacks, the Kikki children's backpack and 17 down sleeping bag models in the Astro range. In addition, almost all products already contain veritable shares of bluesign® materials and components.
Here you can find all our currently fully bluesign® certified products.
Keeping an overview in the jungle of eco-labels is not easy. We have deliberately chosen the strictest standard, with a very comprehensive, holistic approach to an important part of our work. bluesign® is committed to sustainable materials and production methods without any window dressing. We see our commitment together with bluesign® as an indispensable step against the overexploitation of people and nature. As an outdoor enthusiast who cares about sustainably produced equipment, you can rely on the following facts about our bluesign® products:
certified low-pollutant production along the entire supply chain
no use of highly polluting substances
An end product that is harmless to health
Control of the limit values for the use of chemicals
FOR FAIR PRODUCTION
We all want it: to live in a better world. In a fairer world.
Wouldn't it be nice to know that everyone who works on a deuter backpack or bag earns a living wage?
Wouldn't it be nice to know that important social labour standards are respected in the production of your new deuter sleeping bag?
More and more buyers are rightly demanding fair conditions in production and trade - whether it's sports goods or breakfast cereals. We at deuter know: We have to actively do something about it. To ensure that our efforts do not fizzle out as individual actions, we join forces with others. deuter has been a member of the Fair Wear Foundation (FWF) since 2011 and has been consistently awarded FWF Leader status since 2013. Our common goal: socially just and environmentally friendly, sustainable production conditions.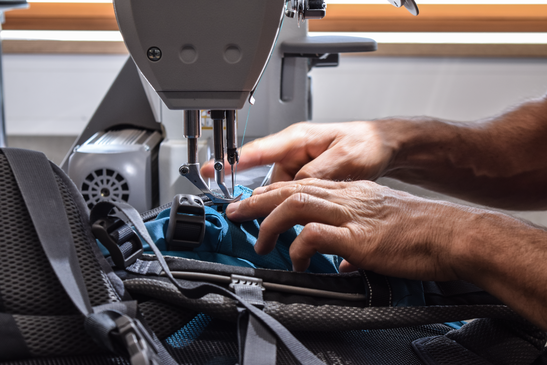 Our involvement in the FWF reflects an essential component of our 360° responsibility strategy. The aim of the Multi Stakeholder Initiative is to work with the participating companies and factories to improve working conditions in the production facilities of the textile and clothing industry, especially on site in the production countries. The consistent implementation and the fruitfulness of the efforts are regularly checked by the FWF's own employees as well as by independent experts. In addition, synergies are created among FWF members, as production often takes place in the same countries or factories and jointly coordinated optimisation is usually more efficient and less time-consuming.
"You can't have fairness without fairness for each other."
Based on this insight, 130 brands from ten European countries have now joined forces with deuter in the Fair Wear Foundation. Together we pull together and have committed ourselves to compliance with the Code of Labour Practices in order to create fair business and production structures. FWF operates in eleven major producing countries worldwide, including Bangladesh, Bulgaria, China, India, Indonesia, Myanmar, Macedonia, Romania, Tunisia, Turkey and Vietnam. If the large, well-known manufacturers set a good example, the production partners cannot help but act in a socially responsible manner in the long run.
We do not engage in supplier hopping. We concentrate on only two suppliers for the production of our backpacks and sleeping bags. We have also limited the number of subcontractors. These partnerships have been in place for several decades. We have regular audits with the suppliers to check whether the standards are being met or where we can make improvements together. We have also agreed that the subcontractors are subject to the same fair working conditions as the main suppliers. The employees of these factories have access to FWF's complaints hotline. This creates mutual trust and reliability. "We decided many years ago that long-term partnerships are the right way to go," says Robert Schieferle, Managing Director at deuter. Paving the way for a fair future for all!
You can read numerous details about the Fair Wear Foundation and our measures in our Social Report 2019-20 and directly at the Fair Wear Foundation.
FWF Best Practice
Wie wir exzessive Überstunden reduziert haben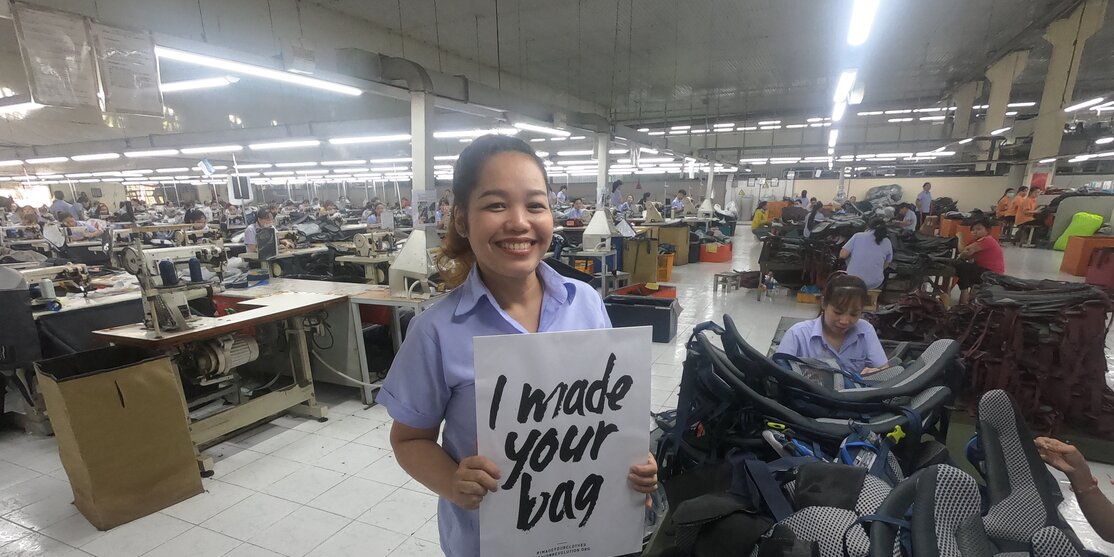 TOGETHER WE CAN DO IT
With our backpacks and sleeping bags you can immerse yourself in dreamlike natural worlds. It is important to us that this beautiful world is polluted as little as possible. That's why we are involved in the Alliance for Sustainable Textiles together with many other companies.
deuter is the most popular backpack brand in Germany. This is also because we place high technical and functional demands on our backpacks and sleeping bags. But that alone is not enough for us. We want to produce outdoor equipment in an environmentally friendly, sustainable way and under socially fair conditions. We consider socially responsible production structures and supply chains to be no less urgent. A few rules for our production sites are not enough. Other suppliers, such as spinning mills, dyeing mills, weaving mills, outfitters and textile printers, are involved in the long supply chains leading up to the finished product. The more, the more difficult it is to track whether social and environmental standards are being met. This world is complex and difficult for us to understand as a single brand. That's why we pull together with other production partners and companies as members of the Alliance for Sustainable Textiles, or Textile Alliance for short. This alliance helps us to disentangle complexity and ensure transparency.
How do you master big tasks? You team up with others, share knowledge, share strategies and ideas. Teamwork and know-how sharing save work. Work that a single company could hardly do. Under this guiding principle, 86 companies and 14 business associations form the core of the Textile Alliance, which was launched by the German Federal Government in 2014 in response to the collapse of the Rana Plaza textile factory in Bangladesh.
Big players are represented here as well as medium-sized companies, adidas as well as Aldi, H&M as well as the outdoor outfitters deuter or Schöffel. They are complemented by 20 non-governmental organisations (NGOs) such as WWF or FEMNET E.V., trade unions such as the DGB and IG Metall and representatives of the German government.
Their common goal is to improve social and ecological conditions in global textile production. All measures are designed in such a way that member companies are responsible for taking action themselves. A comprehensive approach that fits perfectly with our 360° responsibility strategy. Our principle: "Together we are strong". We pursue this motto beyond the boundaries of the Textile Alliance. The alliance works together with the internationally active multi-stakeholder initiative Fair Wear Foundation, in which we are also active.
The Textile Alliance wants to make a difference. That is why its activities are broadly based. The areas in which the member companies are active range from environmental issues to wage issues to fighting corruption. The focus is on eleven sectors:
Freedom of Association & Collective Bargaining
Discrimination, sexual harassment & gender-based violence
Health & safety
Wages & benefits
Working hours
Child and forced labour
Anti-corruption
Chemical use & waste water
Environmental protection & use of resources
Greenhouse gas emissions
Animal welfare (incl. sheep farming)
Like all other member companies, we prepare a report every two years. This self-critically documents the social and ecological conditions as well as the dangers of compliance violations. The Textile Alliance is a sharp sword against inaction. It requires member companies to openly and honestly analyse their production conditions. The new review process also ensures that a company fulfils its due diligence obligations and can demonstrate well thought-out risk management. The requirements to be met here form an excellent basis for the Green Button and Supply Chain Act certification process. At the same time, the Textile Alliance offers advice and tried-and-tested concepts. The more companies join the Textile Alliance, the more effective the measures will be.
Guide: Step by step through the review process
RESPONSIBLE DOWN STANDARD - A HEART FOR ANIMALS
How do you think it would feel if someone ripped your hair off your head alive without anaesthetic? Certainly not good. So it's understandable that plucking - the "harvesting" of down - from live birds has been banned in Europe since 1999. Do we still need a special standard that regulates how down from geese and ducks gets into sleeping bags? Yes. Because just as in meat production, existing laws provide a certain framework, but still leave loopholes in production that can lead to animals suffering - even if they are not plucked alive. That is why we have been using down that complies with the Responsible Down Standard (RDS) for the filling of our down sleeping bags since 2015.
The Responsible Down Standard (RDS) ensures through appropriate controls that down and feathers come from animals that have not been unnecessarily harmed. This is because live plucking and stuffing during down production can result in serious injuries to the animals. The standard offers you and us the certainty that the entire production and supply chain is traceable, from the chicks to the cleaned down to the finished sleeping bag. Only if animal welfare is respected at all stages does the sleeping bag meet the specifications of the RDS certificate. That is why we only work with RDS certified suppliers who themselves only use certified down. You can recognise them by the "Responsible Down Standard" logo. Our finished deuter products that contain this certified down can then be recognised by the "Certified Animal Welfare" logo.
In addition to the ban on live plucking and force-feeding, the RDS contains a number of other animal welfare provisions. These include:
Sufficient feed, without competitive pressure from other animals in the husbandry.
No use of growth hormones
Avoidance of genetically modified feed, where possible
Sufficient clean drinking water
Clear rules on hygiene and space requirements for housing, sufficient outdoor space
The down in our sleeping bags comes from northern China, from free-range adult white ducks. These ducks are bred for the food industry. Their down is a by-product of meat production. This rules out live plucking. Foie gras is also excluded, as foie gras only comes from grey geese and, moreover, there is no demand for it in China. All RDS criteria and the traceability of the supply chain are checked unannounced by independent certification institutes.
Down is a miracle of nature - and probably the best protection against the cold. They come from the plumage of geese or ducks. The downy, puffy under feathers act like a large air cushion and thus protect better against the cold than any synthetic fibre insulation. Thanks to its high elasticity, down quickly regains its original shape - even if it was previously compressed in the sleeping bag's compression sack. In addition, down is extremely light and can absorb a lot of moisture. However, if down gets really wet, it loses its bulking power - like a loose powder snow blanket that suddenly collapses in the rain. Down from geese and eider ducks provides the best warmth.
Read here what you can do to maintain the insulation performance of your down sleeping bag for as long as possible.
All of the down used in our down sleeping bags complies with the Responsible Down Standard. These lightweight and highly insulating sleeping bags also meet the requirements of the bluesign® standard, and they are treated with a PFC-free DWR (Durable Water Repellent) finish – which means they are made under fair working conditions, with as little impact on the environment as possible. So you can enjoy a good nights sleep with a clear conscience.
Per- und polyfluorierte Chemikalien, kurz PFC, sind umweltschädliche Substanzen, die auch unsere Gesundheit stark belasten. Die Chemikalien befinden sich in vielen alltäglichen Produkten wie zum Beispiel Kochgeschirr, Papier, Pizzakartons oder Textilien wie Regenjacken. Gelangen sie einmal in die Umwelt, verstreuen sie sich weltweit. Forscher fanden Spuren von PFC im Trinkwasser, der Luft, Blut, bei Eisbären und in der Muttermilch. Einige PFC können sogar die Fortpflanzung negativ beeinflussen und Krebs auslösen. Die schädlichen Fluorcarbone bauen sich nur sehr langsam – über mehrere hundert Jahre – oder teils gar nicht ab.
PFC werden aufgrund ihrer wasser-, schmutz- und fettabweisenden Eigenschaft und unter anderem in atmungsaktiver Membran verwendet. PFC sind besonders in der Outdoor-Branche ein beliebtes Mittel zur Imprägnierung von Textilien. Denn ohne die wasserabweisende Beschichtung würde sich das Material mit Wasser vollsaugen, nass und damit schwer werden.
Der Umwelt zuliebe hat deuter schon vor einigen Jahren beschlossen, alle Produkte ohne umweltschädliche Fluorcarbone (PFC) herzustellen. Nur wie? Denn lange Zeit gab es keine vergleichbare Alternative zu den schädlichen Chemikalien. Erst als Greenpeace 2012 die Kampagne "Entgiftung unserer Kleidung" ins Leben gerufen hat, begannen Zulieferer und die Chemie-Industrie alternative, umweltschonende Methoden zur Imprägnierung von Textilien zu entwickeln. Darauf reagieren viele Outdoor-Unternehmen – auch deuter.
Der deuter Reparaturservice
LIEBER REPARIEREN ALS WEGWERFEN
Trotz liebevoller Pflege weist jedes Produkt irgendwann einmal nach intensivem Gebrauch Verschleißerscheinungen auf. Für uns gibt es dann keine Zweifel: reparieren ist besser als wegwerfen! Nicht nur, weil die Mitarbeiter unseres Reparaturservices wahre Zauberkünstler sind und neben Flicken aufnähen, Reißverschlüsse austauschen und Bänder vernähen auch individuelle Lösungen auf Kundenwunsch anfertigen können. Sondern vor allem, weil unser lebenslanger Reparaturservice den Lebenszyklus deines Produktes verlängert und wir damit gemeinsam einen großen Beitrag zur Ressourcenschonung beitragen können.