AViANT Duffel Pro Movo 36
Art.No. 3501021-2276
Not available
From € 50 free shipping and free returns
Specification
---
Weight
2520 g
Volume
36 liters
Dimensions
52 / 36 / 27 (H / W / D)
AViANT Duffel Pro Movo 36
Not available
Description
---
Do sport and travel feature large in your life? Then the Duffel Pro Movo is everything you need. Carry it on your back, or wheel it along behind you — however the mood takes you. This roller bag has stowable shoulder straps that make it function like a backpack and ample space for all your kit. Made from robust, PU-coated canvas, the Duffel Pro Movo also protects your luggage from moisture and dirt. Its carry-on hand luggage dimensions mean the Duffel Pro Movo 36 allows you to whisk through the airport with minimal fuss. No queuing at the luggage drop. No waiting at baggage claim. So pack your bags and let's go!
Your optimal companion for
---
Trolley system
Stowable shoulder straps
Shoulder strap as carrying handle
Large opening into main compartment
Fixed point on main compartment for zip lock
Stable standing
Carry On dimensions
Inside compartment to keep your valuables safe
Numerous handles
NFC technology
PFAS free
600D PES Coat
A high-quality and extremely robust TPU material that is highly tear resistant through fabric reinforcement and waterproof due to the closed surface. The closed surface reduces abrasion and, thus, the wear and tear of the material considerably. We use the material in different qualities – 620, 420 and 210 denier. Depending on the mechanical stress, the material can vary in the strength of the coating, the surface structure and single or double-sided coating. It is used, in particular, for our backpacks in areas of higher mechanical stress or increased moisture. The material is PVC-free and, therefore, lighter than comparable fabrics. It remains elastic even in extreme conditions.
---
* D stands for denier. This describes the yarn weight. 600D corresponds to 600 grams per 9000 meters.
* PES stands for polyester. PES fibres are very tear and abrasion resistant and hardly absorb moisture.
* PA stands for polyamide. PA fibres are extremely durable and abrasion-resistant. They are also characterized by high elasticity and low weight.
Top features of the AViANT Duffel Pro Movo 36 NFC technology
NFC stands for Near Field Communication. It is a secure standard of RFID technology, specialized for short distances. By scanning the chip you can immediately see if it is an original deuter product, you can view all product information and pictures and best of all: after the purchase you can register your product in your name. If you lose your luggage at an airport or during your trip, the finder can scan the chip to help you find your deuter backpack again! You can read more information here.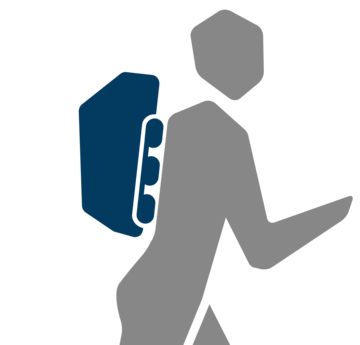 You want a close-fitting backpack that is easy to carry even with a lot of luggage? Then the contact back is just right for you. The easiest way to carry heavy loads comfortably is to have your backpack and carrier form a single unit. Our Contact carrying system keeps the weight close to the body's center of gravity. This guarantees full control and effective load transfer - even in demanding terrain.
PFAS free
This deuter product is free of intentionally used PFAS (per- & polyfluorinated chemicals). deuter thus reduces the use of substances, that are known to harm the environment and health.
For Outdoor products PFAS are mainly used for water repellant treatments.
Instead, deuter uses since 2019 alternative DWR (Durable Water Repellency) impregnation.
You Might Also Be Interested In