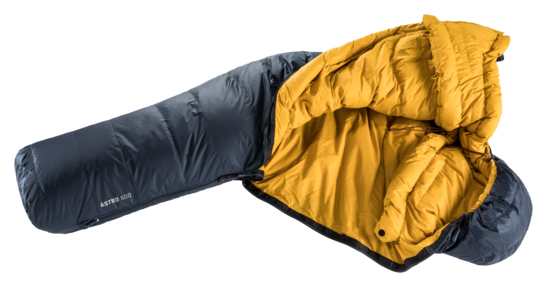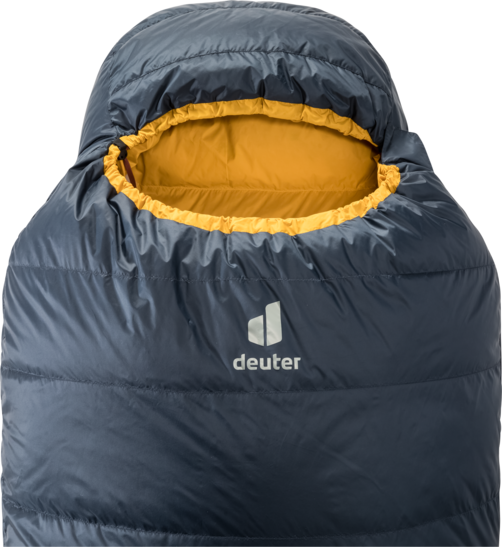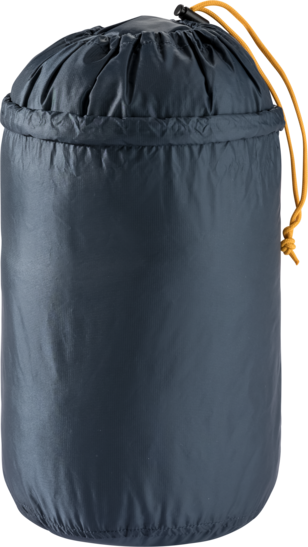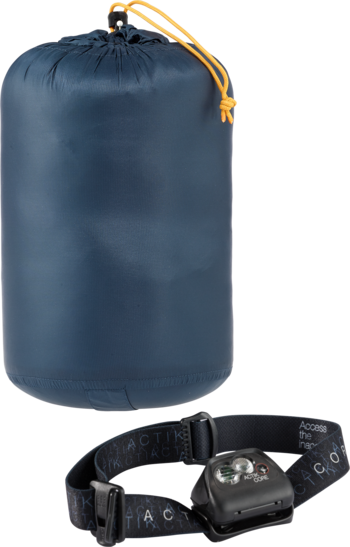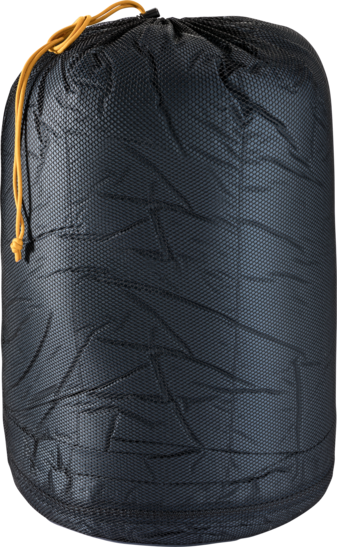 Astro 500 L
Art.No. 3711321-3916
Specification
---
Weight
1000 g + 25 g Stuff sack
Filling material
Grey Duck Down
Fill quality
600+ cuin+ cuin (IDFB), (80/20)
Filling weight
550g
Main Material
30D PA Ripstop, Grey Duck Down
Length
220 cm
Shoulder width
82 cm
Body size
185 - 200 cm
Pack size
ø 20 cm x 31 cm
Minimum temperature
-4 °C
Your optimal companion for
---
Storage bag
Ergofoot
Large
Insulating collar
Inner pocket for valuables
bluesign® product
Certified Animal Welfare
30D PA Ripstop
Thanks to its extremely dense weave, the new feather-like microfibre cover fabric is extremely water repellent and, at the same time, highly breathable, so it protects the down from clumping due to moisture - both from outside and inside. The extremely fine down and windproof nylon Ripstop material is a winner thanks to its smooth texture. The fine Ripstop structure ensures stability and resistance to abrasion. Produced in compliance with the stringent Bluesign® standard.
Grey Duck Down
Since June 2015, we have been using exclusively down that is certified according to the Responsible Down Standard (RDS). The benefits of this are: no live plucking, no force feeding, traceability in the supply chain, animal welfare guaranteed at all levels, checks by independent certification institutes worldwide. Weight ratio 90/10: with down sleeping bags the quality of the down is the decisive criterion. This is primarily expressed by the mixing ratio of down to small/support feathers. The mixing ratio is given in weight percentages, which means with a percentage of >90/10< that the filling is made up of 90% down and 10% small feathers (mix ratio). Fill power / cu in: A high-quality sleeping bag should have a fill power of at least 650 cu in (cubic inches). This measurement in cubic inches per ounce of down shows the quality of the loft and expansion power of the filling. High-quality down has a loft volume of 650 cu in per 1 ounce (28.3g). A loft of 550 cu in and higher is good; of 650 excellent; and 800 is almost impossible to beat. Ultimately, the higher the volume, the better the insulation value.
---
* D stands for denier. This describes the yarn weight. 600D corresponds to 600 grams per 9000 meters.
* PES stands for polyester. PES fibres are very tear and abrasion resistant and hardly absorb moisture.
* PA stands for polyamide. PA fibres are extremely durable and abrasion-resistant. They are also characterized by high elasticity and low weight.
Details
---
THE COMFORT TEMPERATURE
is based on the lowest temperature at which a 'standard' woman (25 yrs. / 60 kg / 160 cm) can expect to sleep comfortably in a relaxed position. This range ensures a comfortable sleep, also for inexperienced users.
THE LIMIT TEMPERATURE
is based on the lowest temperature at which a 'standard' adult male (25 yrs. / 70 kg / 173 cm) can expect to sleep comfortably in a relaxed position. An experienced user can optimise the insulation qualities by his choice of clothing and further factors.
THE EXTREME TEMPERATURE
is a survival only rating for a 'standard' adult woman. She can remain for six hours without sleep. Without risk of death from hypothermia, but with a risk of other damages to health (such as frostbite).
tested according to ISO EN 23537
bluesign® product
Consumer products that carry the bluesign® product label conform to the strict safety and environmental requirements of the bluesign® system criteria. The textiles and accessories used to manufacture the products with the bluesign® approved label are produced in a way that saves valuable resources and has a minimum impact on people and the environment.
Certified Animal Welfare
No live plucking
No force feeding
Traceability in the supply chain
Checks made by independent certification institutions worldwide
Animal welfare guaranteed at all levels
You Might Also Be Interested In