Art.No. 3712823-8505
In Stock
| Delivered in 5 - 6 business days
From $ 99 free shipping and free returns
The sale and shipping is processed by our partner ROI Recreation Outfitters Inc.
Specification
---
Weight
1250 g + 35 g Stuff sack
Dimensions
194 / 65 / 43 (H / W / D)
Fill material
Grey Duck Down
Fill weight
800g
Main Material
20D PA Ripstop, 20D PA Ripstop + DWR
Length
194 cm
Shoulder width
65 cm
Body size up to
165 - 175 cm
Packed size
ø 20 cm x 39 cm
Minimum temperature
-15 °C
Astro Pro 800 SL
In Stock
| Delivered in 5 - 6 business days
Description
---
Our Astro Pro professional down sleeping bag is perfect for alpinists, both in the tent and under the stars. The inner shell, which can be stretched by 25% in width, fits perfectly around the sleeper. It offers plenty of space and at the same time keeps the warmth in the sleeping bag. The sensitive area of the feet is optimally insulated by the three-dimensional foot box and the ergonomic cut ensures pleasant foot freedom. All models of the Astro Pro series are a bluesign® product and are also made of certified down (RDS).
Your optimal companion for
---
Inner pocket for valuables
Insulating collar
Trapezoidal chamber design prevents the formation of cold spots
ThermoHood contoured hood
Thermo Stretch Comfort seams inside
SL Sleeping Bag
2-way zipper
Storage bag
Dryzone: water-repellent material on the head and foot areas
ErgoFootPro: extra space in 3D ergonomic footbox
- Contrasting drawcord toggles for easy hood adjustment in the dark
PowerBox
Anti-snag zipper guard
Lightweight, side-copying compression stuff sack
Green Button certified product
bluesign® product
PFAS free
Certified Animal Welfare
20D PA Ripstop
With a square meter weight of With 38g/sqm this 20D Polyamide offering very good weight to performance ratio.
20D PA Ripstop + DWR
With a square meter weight of With 38g/sqm this 20D Polyamide offering very good weight to performance ratio. This item is specifically treated with a PFC free DWR allowing quicker dry time.
---
* D stands for denier. This describes the yarn weight. 600D corresponds to 600 grams per 9000 meters.
* PES stands for polyester. PES fibres are very tear and abrasion resistant and hardly absorb moisture.
* PA stands for polyamide. PA fibres are extremely durable and abrasion-resistant. They are also characterized by high elasticity and low weight.
Details
---
Suitability:

All season

THE COMFORT TEMPERATURE

is based on the lowest temperature at which an 'average' woman (25 yrs. / 60 kg / 160 cm) can expect to sleep comfortably in a relaxed position. This range ensures a comfortable sleep, also for inexperienced users.

THE LIMIT TEMPERATURE

is based on the lowest temperature at which an 'average' adult male (25 yrs. / 70 kg / 173 cm) can expect to sleep comfortably in a relaxed position. An experienced user can optimise the insulation qualities by his choice of clothing and further factors.

THE EXTREME TEMPERATURE

is a survival only rating for an 'average' adult woman. They won't be able to sleep, but they will reamain alive for six hours without the risk of death by hypothermia. Nevertheless there will still be a risk of other damages (such as frostbite).

tested according to ISO EN 23537
Top features of the Astro Pro 800 SL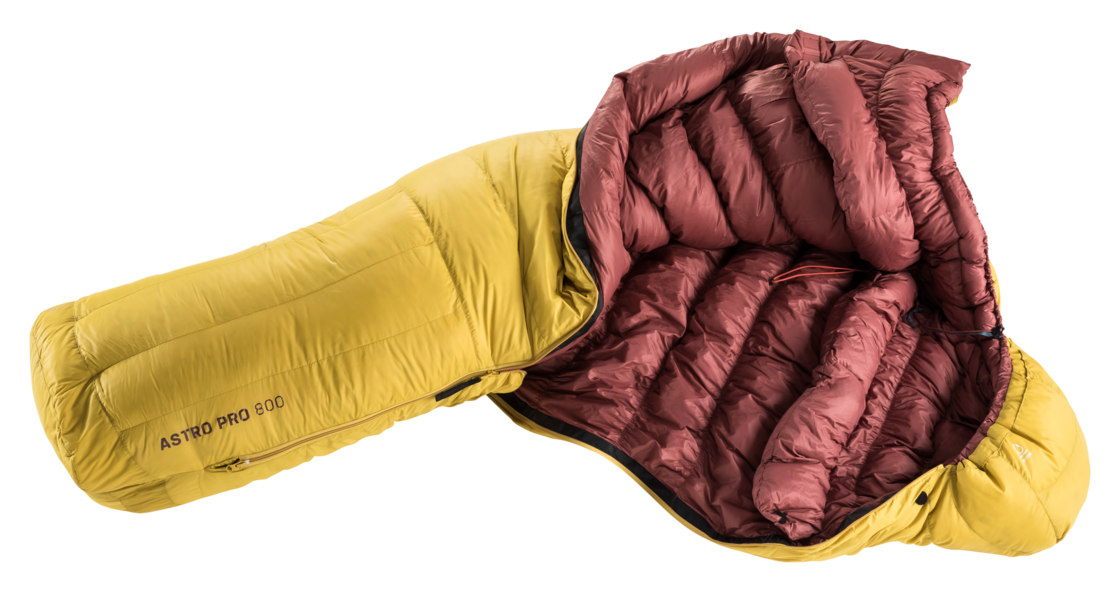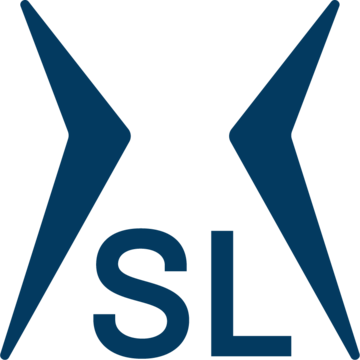 SL Sleeping Bag
The right size and shape ensure that no unnecessary air has to be warmed up. deuter's REGular models are ideal for people up to about 185 cm height. The larger, similarly equipped L versions are for people up to about 200 cm tall.
The shorter cut SL Women's Fit versions are narrower at the chest and foot area and have a higher down filling (in relation to the sleeping bag size). They are particularly suitable for women up to 175 cm tall.
Green Button certified product
The Green Button is a government-run certification label for sustainable textiles. Everyone who aims to purchase socially and environmentally sustainable clothes should look out for the Green Button. There is currently no other label like the Green Button. It demands that mandatory standards are met to protect people and the environment. A total of 46 stringent social and environmental criteria must be met, covering a wide spectrum from wastewater to forced labour. Read more information here.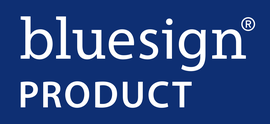 bluesign® product
Consumer products that carry the bluesign® product label conform to the strict safety and environmental requirements of the bluesign® system criteria. The textiles and accessories used to manufacture the products with the bluesign® approved label are produced in a way that saves valuable resources and has a minimum impact on people and the environment.
PFAS free
This deuter product is free of intentionally used PFAS (per- & polyfluorinated chemicals). deuter thus reduces the use of substances, that are known to harm the environment and health.
For Outdoor products PFAS are mainly used for water repellant treatments.
Instead, deuter uses since 2019 alternative DWR (Durable Water Repellency) impregnation.
Certified Animal Welfare
No live plucking
No force feeding
Traceability in the supply chain
Checks made by independent certification institutions worldwide
Animal welfare guaranteed at all levels
You Might Also Be Interested In