TREKKING BACKPACK ADVICE FROM DEUTER
TREKKING BACKPACK ADVICE FROM DEUTER
You are still looking for a suitable trekking backpack? Or you are planning your next tour and still have a few questions about the individual adjustment of the carrying system, the weight or range of use? Then you've come to the right place! We try to answer all your questions about trekking backpacks and help you to find a backpack that suits you and your adventure.
Which trekking Backpack fits me?
Which trekking Backpack fits me?
The volume is not the only decision criterion when choosing the right model. The larger a backpack is, the more important is an individually fitting carrying system. Only with it do the anatomically shaped S-straps nestle neatly around the shoulders and guarantee freedom of movement and wearing comfort. That's why the back length plays an important role when choosing a backpack.
HOW CAN YOU MEASURE THE BACK LENGTH?
MEASURING POINT 1 CERVICAL VERTEBRA
Tilt head downward. Below the base of the neck, vertebra C7 bulges out.
MEASURING POINT 2 LUMBAR VERTEBRA
A belt can serve as a measuring aid. Place the upper edge of the belt at the level of the upper edges of the hip bones. These are at the level of the lumbar vertebra L3.
Then place a measuring tape at C7 and measure to the upper edge of the belt or upper edge of the hip bones.
You can also measure your back length on your own, follow these instructions.
Once you know your back length, you can check our size chart to see which trekking backpack fits you!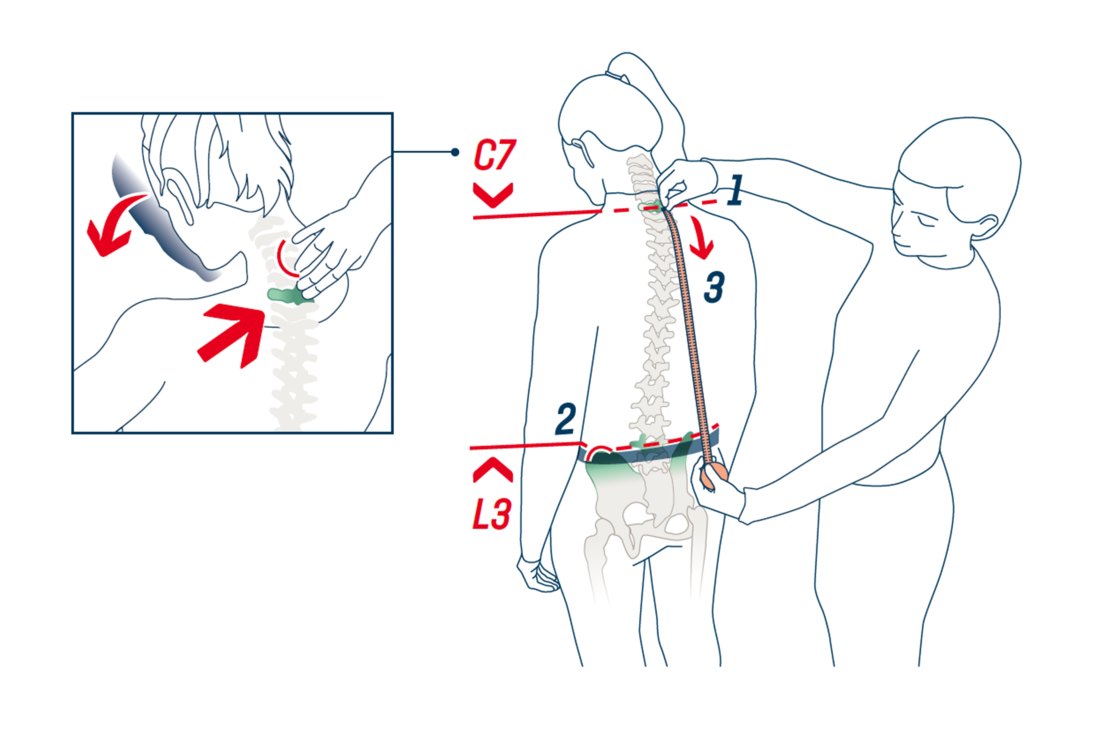 TREKKING AREAS OF USE
Whether for a long-distance hike, hut trekking, pilgrimage or expedition in the wilderness. We have the right trekking backpack for all areas. In order to be able to enjoy the adventure to the fullest, we have, in addition to well thought-out functions, placed particular emphasis on maximum comfort. Thanks to individually adjustable carrying systems, you can easily and comfortably carry even heavy loads over a longer period of time. Click here to see our trekking giants that meet different requirements:
Correct usage of a trekking backpack
THE NUTS AND BOLTS: ADAPTING THE SUPPORT SYSTEM
Especially with loads over ten kilograms and long walking times, individual adjustment is crucial for carrying comfort. That's why we equip our models from a volume of 35 liters with a system for back length adjustment. For smaller models, it makes sense to do without a back length adjustment in order to keep the dead weight as low as possible. Here, the backpacks can be adjusted to the back length via the sizes for men, for women (SL) and for tall people (EL). Here we are guided by the proportions of an athletically built average person.
VARISLIDE SYSTEM
Perfect fit in an instant for any back length thanks to stepless VariSlide adjustment:
Lift the plastic buckle centrally located on the carrying system.
At the same time, pull or push the carrier heart with the ergonomically cut shoulder straps into the appropriate position.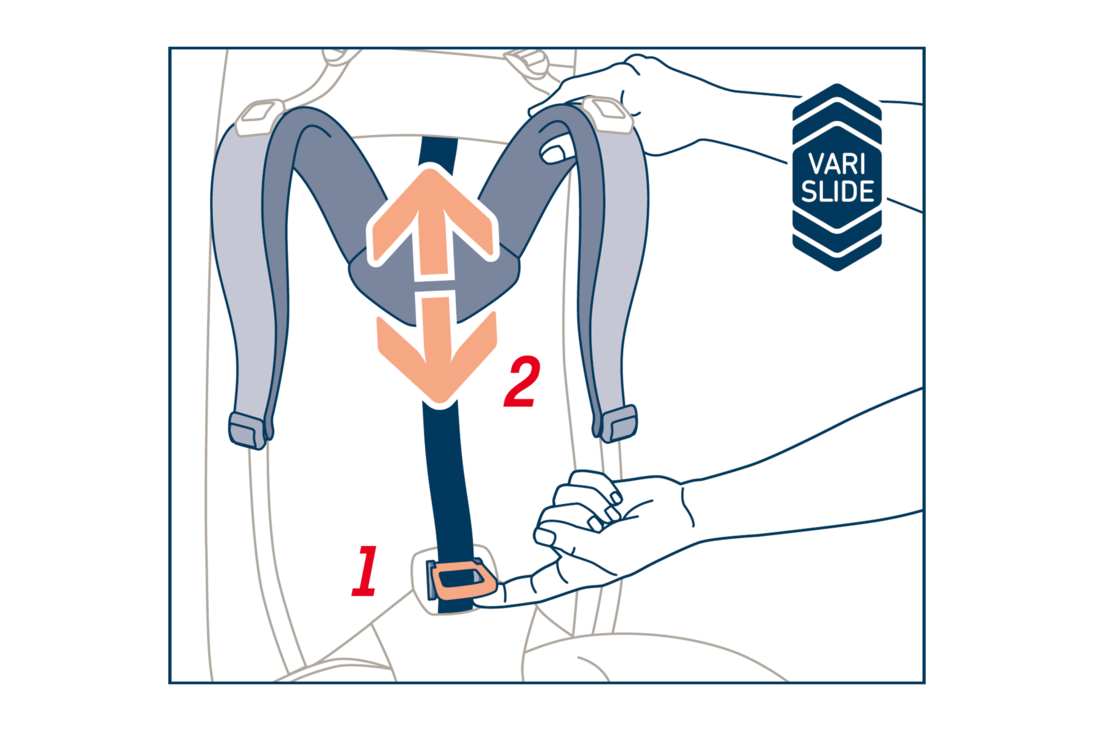 VARIQUICK SYSTEM
For backpacks with VariQuick system, always adjust the back length as follows:
Open the Velcro strap on the carrier heart and pull it off the backpack.
Then thread through the matching four attachment loops to the top, tighten and close the Velcro.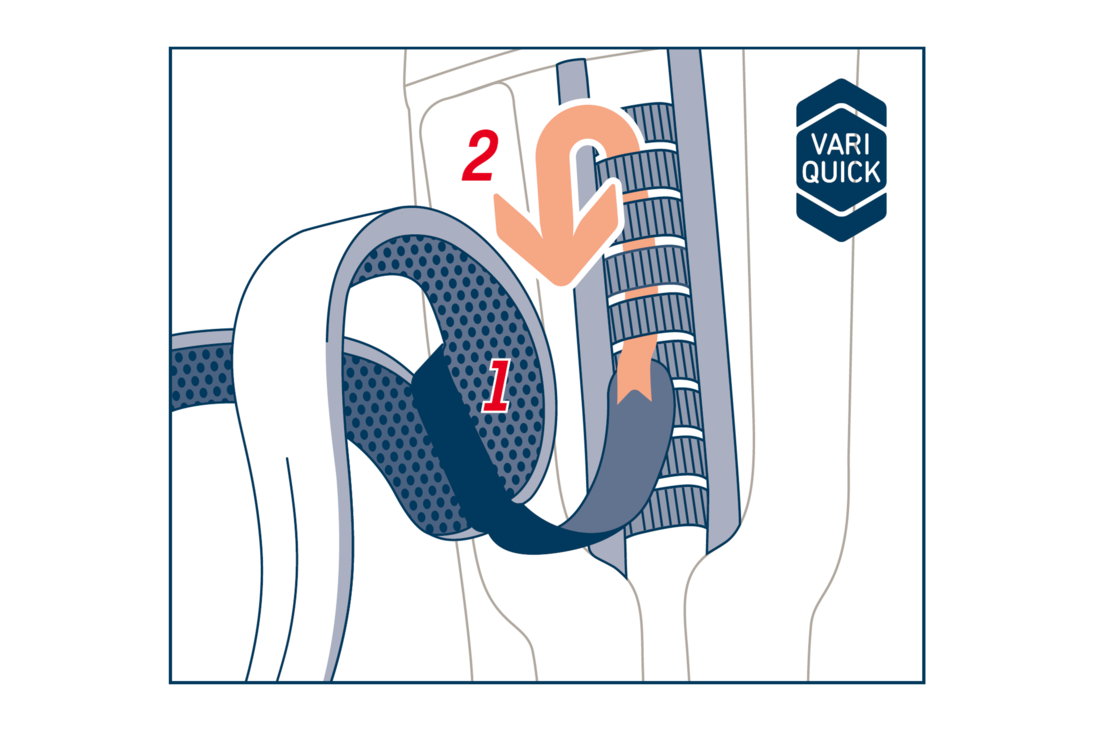 HOOK & LOOP SYSTEM
This system in our ultralight trekking backpack provides individual wearing comfort by adjusting the length of the back. Simply hook carabiner into matching loop.
| | | | |
| --- | --- | --- | --- |
| Loop | 1 | 2 | 3 |
| Men back length | 44 cm | 46 cm | 48 cm |
| Women (SL) back length | 40 cm | 42 cm | 44 cm |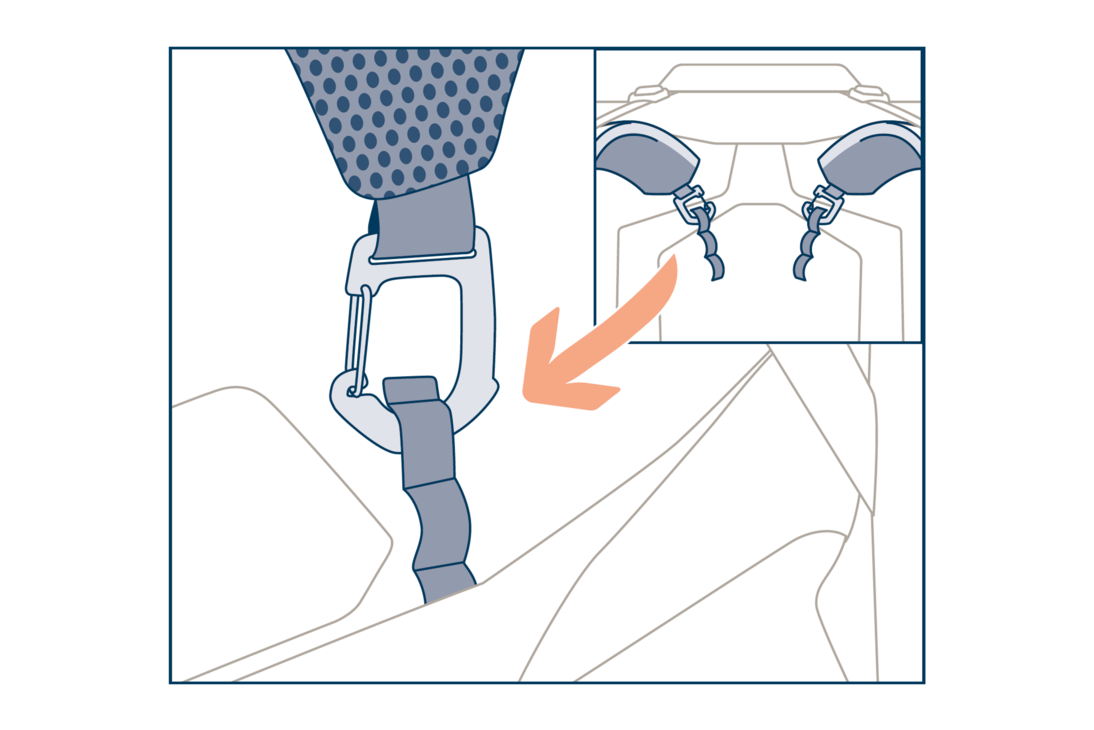 How much weight can a trekking backpack carry?
TREKKING Load Classes
WHAT DOES THIS CLASSIFICATION MEAN FOR OUR TREKKING BACKPACKS?
Our load classes are not about the maximum load capacity of our trekking backpacks. They can withstand much more than we want them to carry. We understand them as guide values. We are concerned with carrying comfort. This is always a combination of the following factors:
Construction and stability of the back system
Expected duration of wearing. Example: trekking backpack versus travel backpack.
Individual requirements of a product. E.g.: Thru-hikers value a product that is as light as possible for thru-hiking, while the highest level of comfort is required for trekking.
Individual fitness. Ex: The expectations of an expedition participant are higher than those of a classic recreational hiker.
Finally, the specifications are also based on the usual and reasonable equipment in use.
Our load classes are intended to provide orientation in the selection of the appropriate trekking backpack. In any case, we recommend that you test a backpack with the appropriate load yourself.
Load Class 1

Load Class 2

Load Class 3

Stable frame, which in combination with padded hip fins provides very good load transfer

• Touring backpacks, long distance hiking
• Aircontact Ultra, Aircontact Lite
• Up to 15 kg

Verstärkter Rahmen mit direkter Anbindung der differenziert gepolsterten Hüftflossen für höhere Lastübertragung bei langen Tragezeiten

• Trekking, work and travel, longer trips
• Aircontact Core, Futura Air Trek
• Up to ca. 20 kg

Reinforced frame with direct connection of the differentiated padded hip fins for higher load transfer during long periods of wear

• Trekking with food, long trips
• Aircontact X
• Up to ca. 30 kg
TREKKING PACKING LISTS: WHAT YOU NEED ON YOUR TREKKING TOUR
APPLIES TO EVERY TOUR:
Carry as little as possible - but as much as necessary! Together with the state-certified mountain guides from the Association of German Mountain and Ski Guides, we have compiled our wealth of experience as tips for you in packing lists. Please note that all weights are only recommendations and may vary. In general you can assume: The higher the quality of the equipment, the lighter it is. We wish you a lot of fun "on tour"!
ON HUT TREKKING
Indispensable

Weight

Trekking backpack 35 - 60 Liter
1900 g
Spare ls and ss shirt
350 g
Water and windproof jacket
500 g
Water and windproof pants
300 g
Functional shorts
200 g
Long underwear
170 g
3 x pairs of underwear and socks
250 g
Beanie or headband
60 g
Cap or buff
60 g
Thin gloves
50 g
Suncream over LSF 30 & lip balm
60 g
Sunglasses, best self-tinting
30 g
Drinking bottle or streamer with at least 1 liter of liquid
(depending on tour)
1190 g
Dried fruit, nuts, bars as needed
200 g
Electrolyte / magnesium tablets
50 g
First aid kit with personal medicines
310 g
Blister plasters, headache tablets
40 g
ID, cash, EC card
40 g
Hut sleeping bag
250 g
Washing bag with hygiene items
160 g
large functional towel
150 g
Headlamp
80 g
Cell phone with emergency numbers
130 g

Approximate total weight "indispensable" (Incl. Backpack)

6,53 kg

Recommended

Snack as needed
200 g
Pullover / fleece
400 g
Camera and /-bag
310 g
Thin pants
200 g
T-shirt for cottage (cotton)
170 g
Slippers for cottage
180 g
Pocket knife
100 g
Plastic bags (for protective laundry, etc.)
20 g
Spare batteries (headlamp, GPS etc.)
60 g
Telescopic poles
460 g
Via ferrata or high altitude touring equipment
(depending on the tour)
1500 g

Approximate Total Weight "Recommended"

3,6 kg

Without Mountain Guide

Topographic map
100 g
Tour descriptions
100 g
Altimeter / compass and GPS
300 g
Bivouac sack
280 g

Approximate total weight "Without Mountain Guide"

0,80 kg

Total Weight (Guideline)

10,9 kg
ON TENT TREKKING
Indispensable

(In addition to hut TREKKING)

Weight

2 person tent with pegs
2000 g
Sleeping bag (temperature range adapted to the travel time)
1200 g
Camping mat
800 g
Stove with pot
700 g
Stove fuel
450 g
Water filter
200 g
1 x bagged lunch / day
125 g
Cereals / day
100 g
Tea, coffee, milk powder / day
25 g
Cup / plate / cutlery
250 g
Lighter / igniter
50 g
Folding shovel
300 g
Toilet paper / tissues
100 g

APPROXIMATE TOTAL WEIGHT
(INCL. BACKPACK)

6,4 kg

TOTAL WEIGHT (GUIDELINE)

17,3 kg
AIRCONTACT ULTRA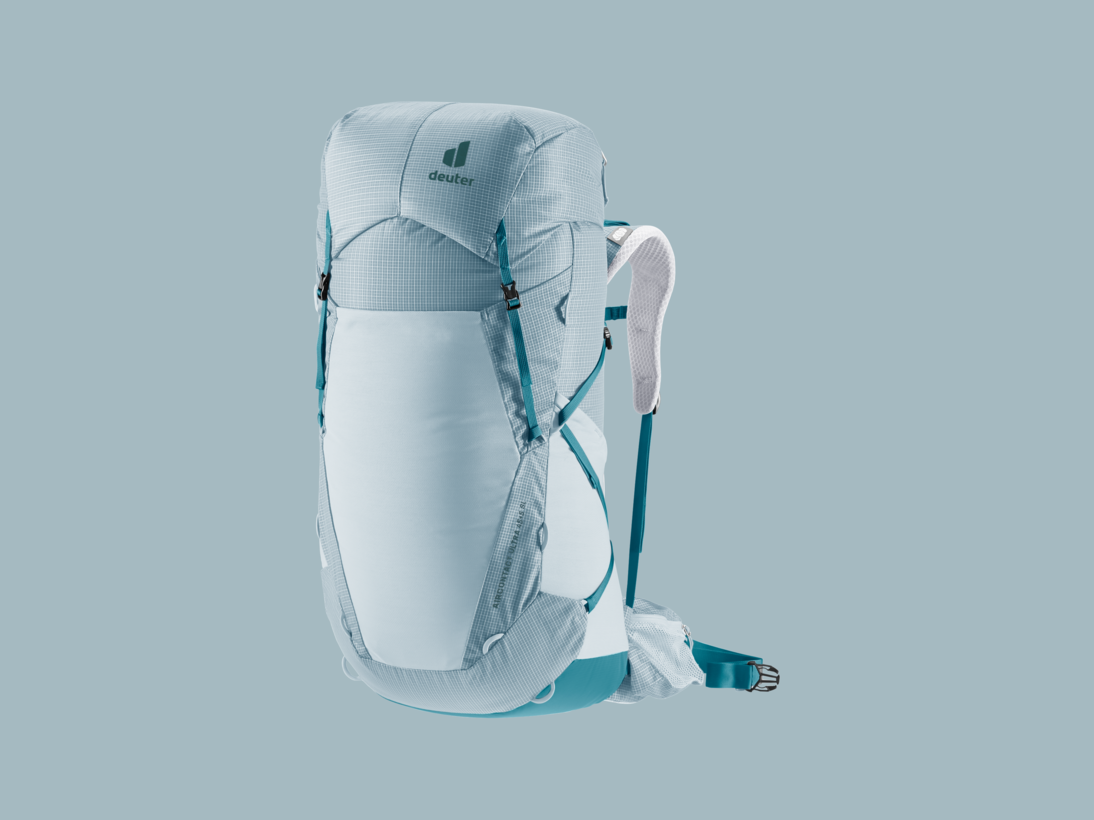 Load
Intended application
Thruhiking, long distance hiking, ultralight trekking, with accommodation/tarp
Key Features
• Aircontact back system
• Light weight
• Adjustable back length through hooks & loops
• Removable compression straps, configurable as needed, to secure sleeping pad, tent or load in the bottom of the backpack
• Height adjustable removable lid
• Compatible with drinking system
Carrier System
• Air-Spacer-Mesh, combines several functions at once: comfort, cushioning and ventilation
• Light spring steel frame
• Back length adjustment through hook & loop
• Ergonomic lumbar pad
• Slim, ergonomic hip fins for medium loads
• VariFlex & ECL (Ergonomic Comfort Lock)
Aircontact Lite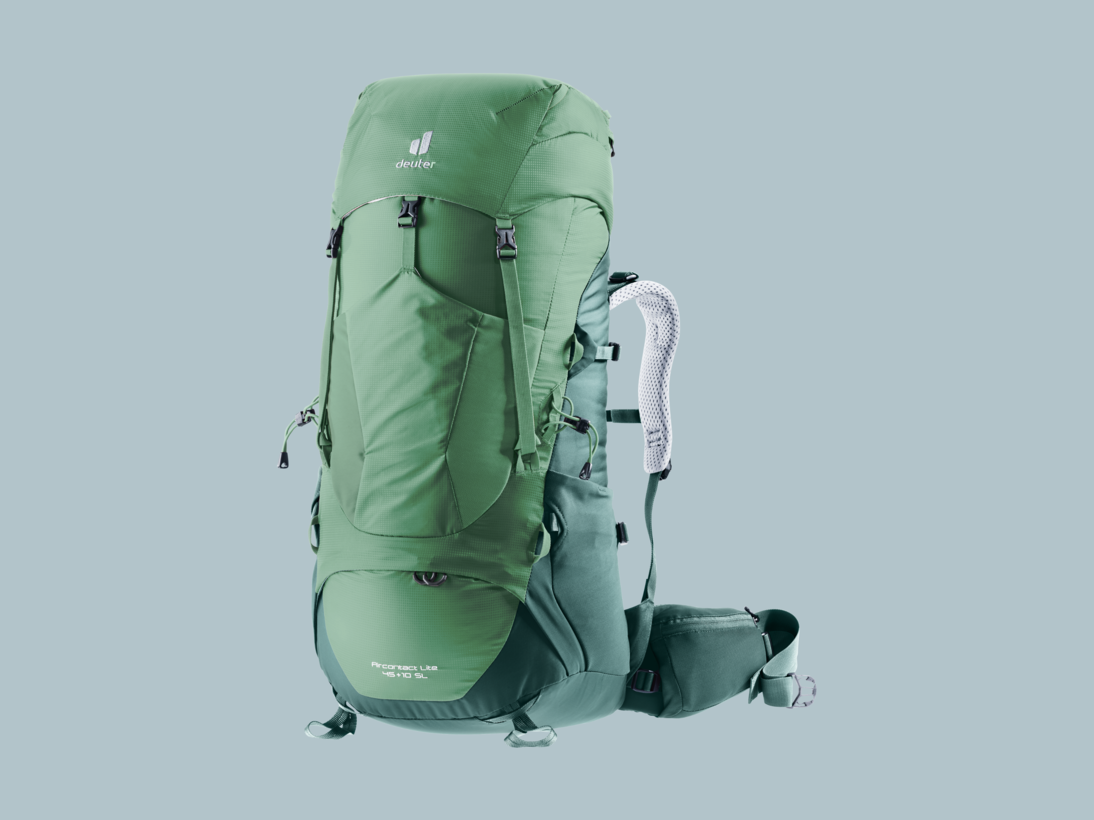 Load
Intended Application
Hut trekking, crossing, pilgrimage, with accommodation & meals
Key Features
• Aircontact back system
• Light weight
• VariQuick
• Pick and pole holder
• Removable backpack lid can be transformed into a daypack with the front straps
• Separate bottom compartment
• Compatible with drinking system
Carrier system
• Open-pored Aircontact foam, wicks away moisture and heat
• Large ventilation channel between the pads
• Lightweight, flexible inner frame
• Back length adjustment through VariQuick
• Ergonomic lumbar pad
• Slim, ergonomic hip fins for medium loads
• ECL (Ergonomic Comfort Lock)
Futura Air Trek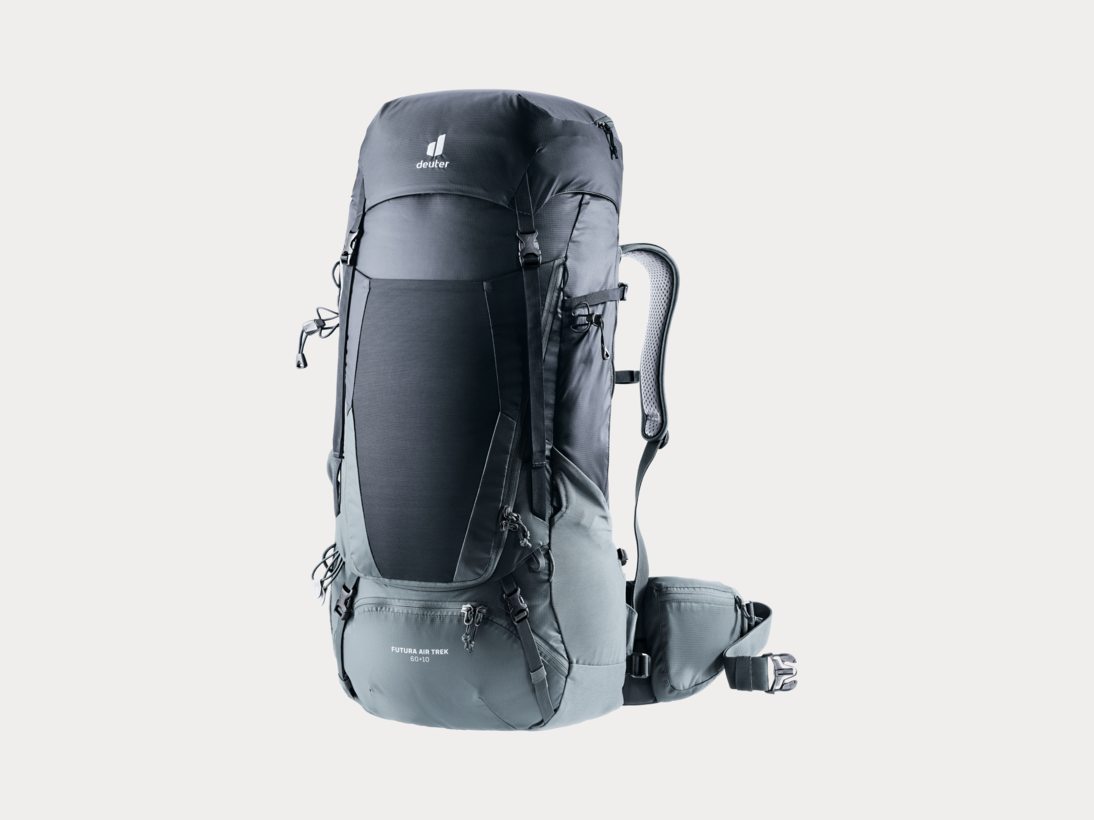 load
Intended application
Long-distance hiking, pilgrimage, trekking trip, with lodging & board
Key Features
• Aircomfort back system
• VariSlide back length adjustment
• Separate bottom compartment
• Zipper front opening
• Removable rain cover
• Compatible with drinking system
Carrier system
• Max. 2-sided ventilation in the back and shoulder area due to tensioned Aircomfort mesh backrest
• Stepless back length adjustment through VariSlide
• Full contact in the lumbar region
• padded, firmer hip closures
• VariFlex & ECL (Ergonomic Comfort Lock)
Aircontact Core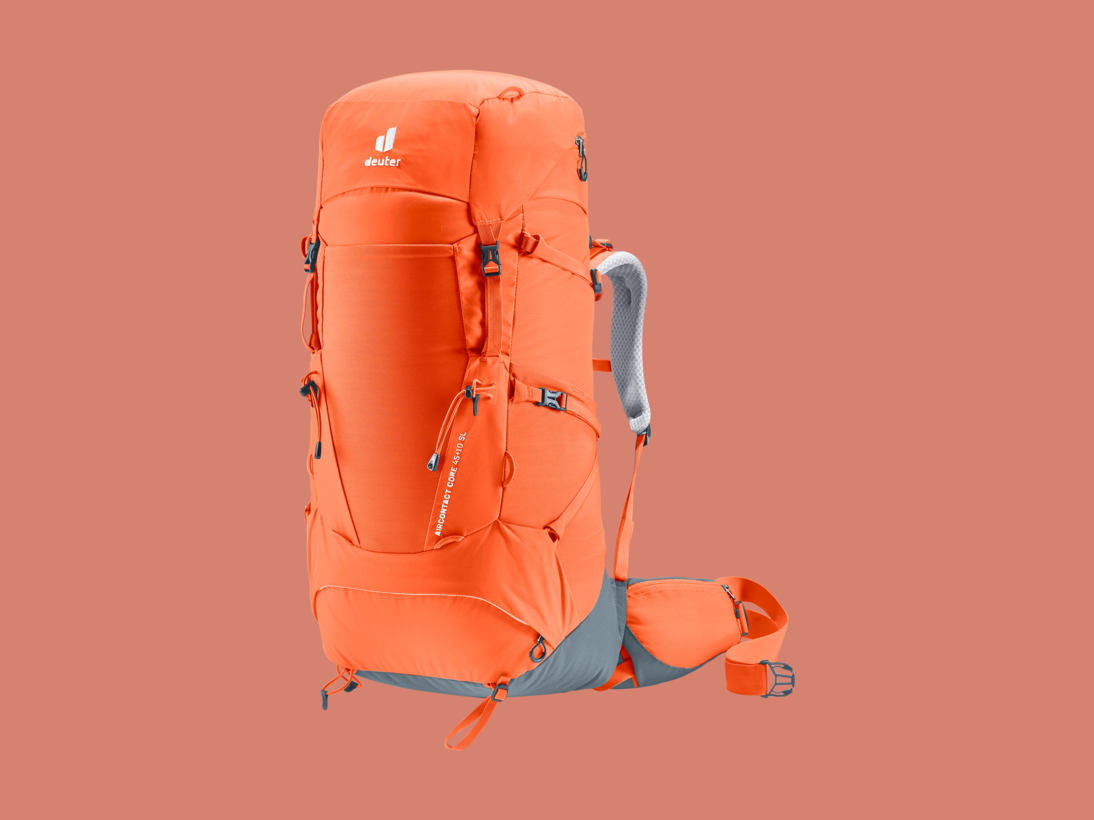 Previous models: Aircontact until 2021
Load
Load class 2
Up to 20 kg for previous models
Up to 25 kg
Intended application
Tent trekking, lodge trekking, backpacking, with accommodation / with tent
Key Features
• Aircontact back system
• VariSlide back length adjustment
• Removable compression straps, configurable as needed, to secure sleeping pad, tent or load in the bottom of the backpack
• Expandable volume through height-adjustable removable lid for fixed stowage of additional 10 liters
• Separate bottom compartment
• Very spacious 3 liters removable hip fin pockets from 55 liters volume
J-shaped zipper front opening from 55 liters volume
• Compatible with drinking system
Carrier system
• Air-Spacer-Mesh, combines several functions at once: comfort, cushioning and ventilation
• Y-frame coupled with movable hip closures & straps.
• Stepless back length adjustment through VariSlide
• Ergonomic lumbar pad
• Extra stable, ergonomic hip fins for high loads
• Stable, load-distributing Air Spacer Mesh for flat pressure
• VariFlex & ECL (Ergonomic Comfort Lock)
Aircontact X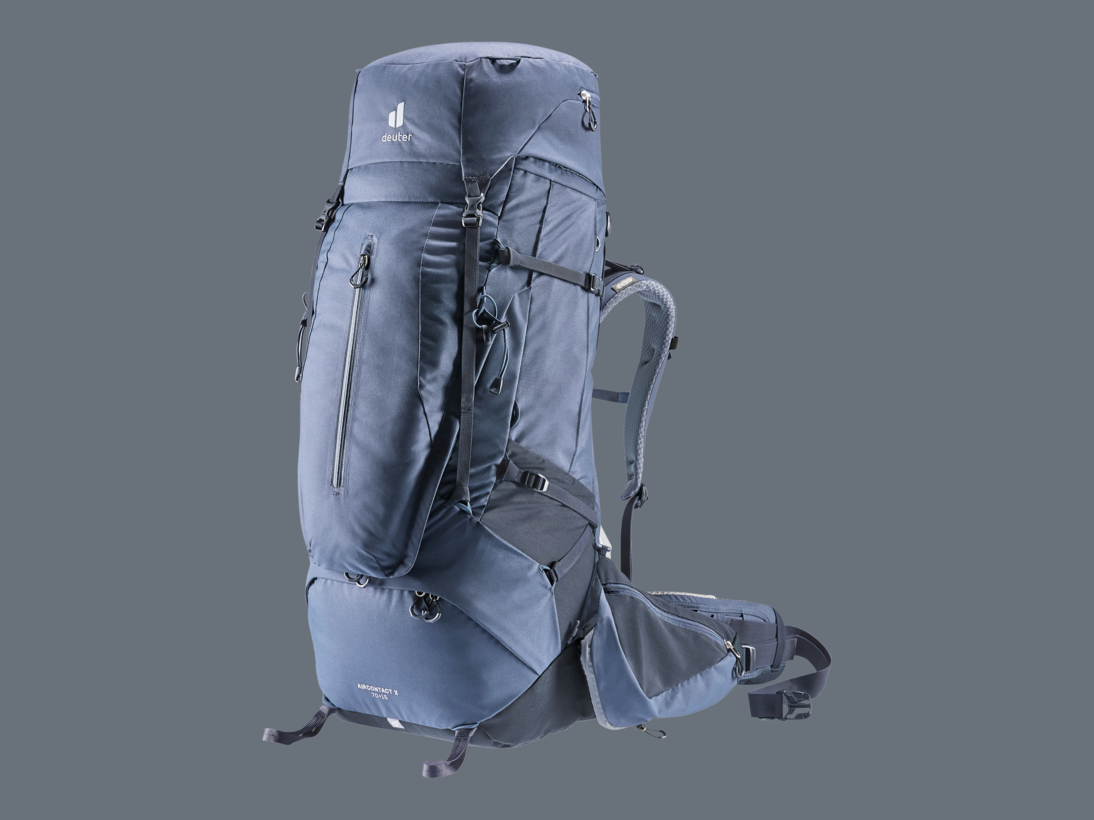 Previous models: Aircontact Pro until 2021
Load
Up to 30 kg
Intended application
Wilderness trekking, expedition, work & travel, self-catering with tent
Key Features
• Aircontact back system
• VariSlide back length adjustment
• Large front opening
• Separate bottom compartment
• Removable compression straps, configurable as needed, to secure sleeping pad, tent or load in the bottom of the pack
• Two elastic side pockets and zippered front opening with 5 liter volume, large side bellows pockets for additional luggage
• Height adjustable, removable lid
• Very spacious 3 liter removable hip fin pockets
• Snowskirt with compression strap for fixed stowage of additional 15 liters
extra daypack in lid compartment
• Removable rain cover

Carrier System
• Air-Spacer-Mesh, combines several functions at once: comfort, cushioning and ventilation
• Y-frame coupled with movable hip closures & straps
• infinitely variable back length adjustment through VariSlide
• strong, ergonomic lumbar pad
• hip fins designed for maximum load with leg cutout
• gentle load distribution due to large support surface on the back section
• stable, load-distributing Air Spacer Mesh for flat pressure
• VariFlex & ECL (Ergonomic Comfort Lock)
Accessories for your TREKKING Backpack